Safety is optional for kids in Bali. This includes car seats, age and amount of kids on a motorbike, bike helmets and also pool fences
Most private villa pools in Bali do not have a pool fence. If you are travelling alone or as a loved up couple, Bali pool fence hire is probably unnecessary and will most definitely ruin your classic manicured toes by poolside holiday Instagram.
If on the other hand, you have young children even ones that are cautious around water, hiring a Bali pool fence is the only way to go.
We hired a villa on our last trip to Bali to accommodate multiple kids and extended family. The downstairs rooms all had doors opening out towards the central unfenced pool area. We had heart palpitations as we realised the kids room had glass doors which lead straight to the open pool.
There are reasons Australia and other first world countries make pool fences a regulated and mandatory requirement. Children are magnets to water and drowning in pools unfortunately do occur. From the Australian Drowning Report 2012/2013:
Swimming Pools continue to account for the largest proportion of drowning deaths in this age group, representing 61% of all drowning deaths in children aged 0-4 years.
Hiring a pool fence does not mean you relinquish all your pool safety duties however the over vigilance and constant worry of your kids near the pool does dissipate.
Whilst there was an option of leaving the pool unfenced, believing the kids to be responsible and trusting that each adult would be alert to any opening of doors; particularly at night. It was a far better option to pay a little extra for peace of mind that there is a physical barrier between your kids and the pool. 
Bali pool fence companies
There are several pool fence companies including
We chose to hire the pool fence from Baby Service Bali. The only reason we selected Baby Service Bali as opposed to the other providers was that they offered other services which we thought we might also try out such as family photographers. Though we didn't manage to use this service due to time constraints.
Bali Pool Fence Hire were also contacted and they were equally as professional and had lots of experience installing pool fences at different villas around Bali.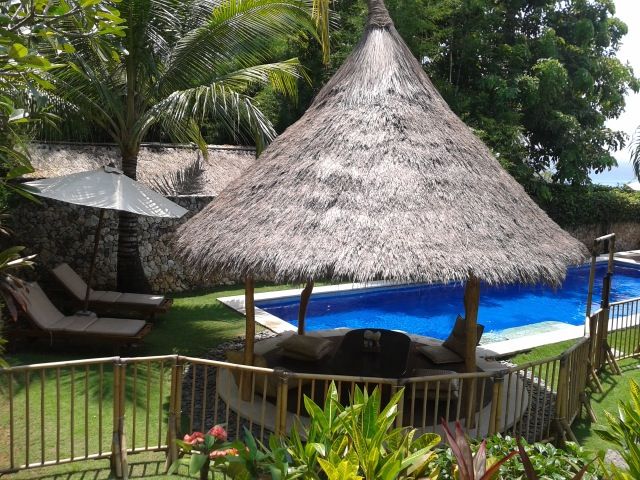 Cost of Bali pool fence
Please note that although a $50 discount was received in return for updating my Guide to Bali with Kids pool fence section of the post, there was no obligation to write this post. I simply feel strongly about hiring a pool fence and wanted to share more information. All opinions are my very own.
The cost between Bali Pool Fence Hire and Baby Service Bali were similar, operating on a per day hire. For 6 days, the total cost was $140 which includes a $50 installation and delivery fee.  For stays longer than 6 days the daily rate starts to drop. Costing $12 per day for stays between 7-13 days  and $10.50 for stays between 14-21 days.
The per day rate is based on up to 20 meters of pool fence, it may cost more if a longer fence system is required.
How does the Bali pool fence service work?
Contact the pool fence company via their contact details on their website to confirm availability for the dates of your stay.
They will request address and contact details of the villa you are staying at to determine if a pool fence can be installed and provide a quote.
Once confirmed, the total cost in addition to the $50 installation and delivery fee will be requested as a secure payment via paypal in full.
The pool fence company will reconfirm closer to your stay and arrange access to install. For us, the pool fence was set up prior to arrival and picked up just after we checked out. This is dependent on where you are staying and when you can check in or out.
A day or two prior to check, email to reconfirm the check out time and notify the Bali villa staff of the time the pool fence company is coming to collect the pool fence.
A vert smoothy transaction made through email correspondence, though they do also have a local telephone number to reach them if necessary.
Bali pool fence specifics
The pool fence provided by Baby Service Bali was a freestanding fence made with panels of timber frames with bamboo rods.
They were pieced together with cable ties and were very secure. My kids were rattling and shaking it at one stage eager to get in on arrival and the fence did not budge.
The only access to the pool is through a secured entrance gate with a Magna Latch Top Pull which are the common latches used in  in Australia.
The latch device is positioned higher than the top of the the pool fence so toddlers cannot reach. However our 7 year old nephew opened and shut the gate with ease, that's where the lock and key came in handy to prevent the kids from accessing the pool when we didn't want them to and also overnight.
I can only provide specific details of the pool fence provided by Baby Service Bali. It appears that Bali Pool Fence Hire offers a similar fence made of Bamboo and Bali Villa Related Services provides a metal and net style fence.
Disadvantages of a Bali pool fence
Functionality over aesthetics. The pool fence isn't exactly pretty especially comparing it to beautiful seamless glass pool fence or no fence at all, however it is completely functional and perfectly safe.
Slight stain to wet clothes. Though not it's intended purpose we used the fence to hang wet swimming clothes and beach towels. A few of the clothes were stained from the residual paint or oil used in the timber. Not a major deterrent to hiring a bali pool fence.  Most of the stains were washed away, this is a cautionary note to save your lovely white kaftan.
Unsuitable villas. Some villas are configured in a way that temporary pool fences are unsuitable. For example the villas where we stayed last, at The Royal Beach Resort Seminyak have specific villas where the pool is better suited for a Bali pool fence. Bali Pool Fence Hire have noted that Villa 109, Villa 112 and Villa 101 are the most suited for their fence systems. When booking request a pool villa that is suitable or confirm with the pool fence company whom will check if a pool fence can be set up.
Cost Vs Free. Understandably this is an added cost to a holiday and if staying for a longer duration the amount adds up. We have stayed in a pool villa with kids aged 1 and 3 without using this service before. For me, the benefits do outweigh the cost and wouldn't hesitate to use a pool fence for the kids in the future.
Advantages of a Bali pool fence
More freedom for everyone. The way our villa was laid out, the living area was separate to the bedrooms housed in different building to the side of the house. The kids could still freely go from inside to outside without risk of falling into the pool. They were able to enjoy the courtyard whilst we looked on from the alfresco dining area without an adult following closely behind.
More control over the pool. As the pool was physically separated from the kids, you have more control as to when the kids could enter the water. For a wayward 2 year old, the pool fence was the best thing as it removed the option for her to go near the water without our OK. Even if it wasn't the threat of drowning, Layla wasn't able to just go dip her toes if she felt like it.
Peace of mind. I mentioned in my Guide to Bali with kids;  early one morning my 3 year old son woke extremely early and I heard the click of the door. I woke to see him slowly edging to the pool with a flower in his hand. I know that he wanted innocently throw the flower in, however all it takes is a little over confidence or an accidental fall and he would've ended up in the pool, where he couldn't reach the floor.
Preventative measure against drowning. You may think that you would hear a splash or a cry for help, but what is extremely frightening is that drowning is silent and can happen quickly. Though not intending to scare you, even if you don't hire a pool fence, just be aware of the pool situation and find means to safeguard your kids from the pool.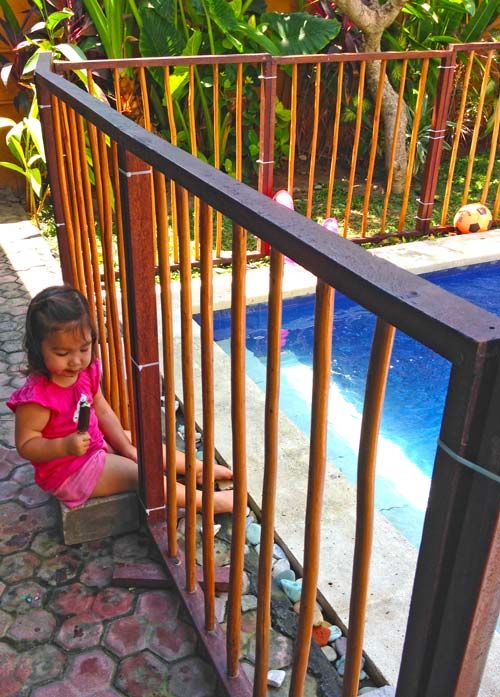 Are you considering a pool fence? Have you had experiences with a Bali pool fence? Love to hear your thoughts or comments below: