"She has no idea" a woman whispers as my 2 year old stands facing the white tiger with only the glass dividing them. Whilst my animal loving daughter thought it an overgrown kitty and reaches out to pet it. The woman was right. The tiger as soft, white and gentle as it seemed, would swallow her up just like the chickens they were tossing by the window during feeding time at Bali Safari and Marine Park.
There are two beautiful Indian white tigers at this animal theme park, they take pride of place as one of the main exhibits of the park. Here in lies the dilemma I have with this park, it is as the brochure states a "recreational business" and operates so that the animals are primarily placed as entertainment for tourists with an after thought for animal conservation. Still, there are glimmers of hope with educational activities and live shows centered around animal welfare.
The animals seem well cared for, appear healthy and occupy large natural habitats, there's no evidence of maltreatment or unethical behavior. Whilst there, I had to continue to remind myself that the animals in this theme park maybe fed more food and have better care than a large population of this impoverished nation.
With this in mind and expectations set accordingly, Bali Safari and Marine Park is a fun day out with kids.
What's Bali Safari and Marine Park really like?
Bali Safari and Marine Park is a zoo-like theme park with plenty of exotic animals to get up close and personal with.
Though it's a pricey entry, particularly for Indonesia, you do get bang for your buck. There are over 40 hectares of land and home to an extensive list of animals; from Komodo dragons, exotic and local species of fresh water fish, all the African animals you expect to see on safari, asian elephants, orangutan, Sumatran tigers, Indian white tigers, exotic and endangered birds to name a few.
The entertainment is wide and varied, from an animal educational show, a dramatic elephant show, a traditional Indonesian theatrical show, photos opportunities with animals such as python, tiger and lion cubs and a petting zoo with plenty of cute animals. Throw in a impressive water park and fun zone with amusement rides and you have much to cover in one day at Bali Safari and Marine Park with kids.
All this, is included in your general admission, the lowest price ticket. There are plenty of add ons to include different interactive animal experiences, food and drink packages, VIP seating, night safari packages and transfers.
What is the park really like? It's worth a visit,  if you intend to goto an animal attraction in Bali, I would recommend Bali Safari and Marine Park due to the sheer amount of things to do.
The major benefit of this park is that attractions are designed to allow you to get extremely close to the animals. There's none of the "can you spot the Cheetah?" dialogue with your child, because it will be right in front of you with nowhere really to go.
Highlights of Bali Safari and Marine Park
With so many activities on offer, here are the highlights with kids:
Go on Safari in Bali
Board a 4WD bus and join a guided tour of animals from Indonesia, Africa and India. Easily spot exotic animals such as white rhino, hippo, giraffe, zebra and sumatran tigers to name a few.
The brochure may have you imagining there are countless exotic animals roaming together in a wide open range.  However, you will find there is a well worn track that the driver takes and the animals are strategically placed in smaller areas divided by canals, wires and rocks to allow a more up close and personal experience. This is not to say the animals are confined or tethered (maybe the owls?), some animals have larger parcels of land than others and they are free to roam in their designated areas. A sprawling reserve it is not, more of a small safari experience.
The safari journey takes a 30 minute slow loop around the themed countries, allow 45 minutes including queuing for the bus.
Watch elephants bathe
The elephant bathing show operates daily at 11.20am. Two elephants are ridden down to a pool of murky water to bathe. It's questionable how clean these elephants get as we witnessed them taking poops in their bathing water. Whilst they are knee deep in water, it's also time for free photos and to pet the elephants. An extra 50,000 rupiah (aprox $5 AUD) you can feed the elephants a bunch of carrots.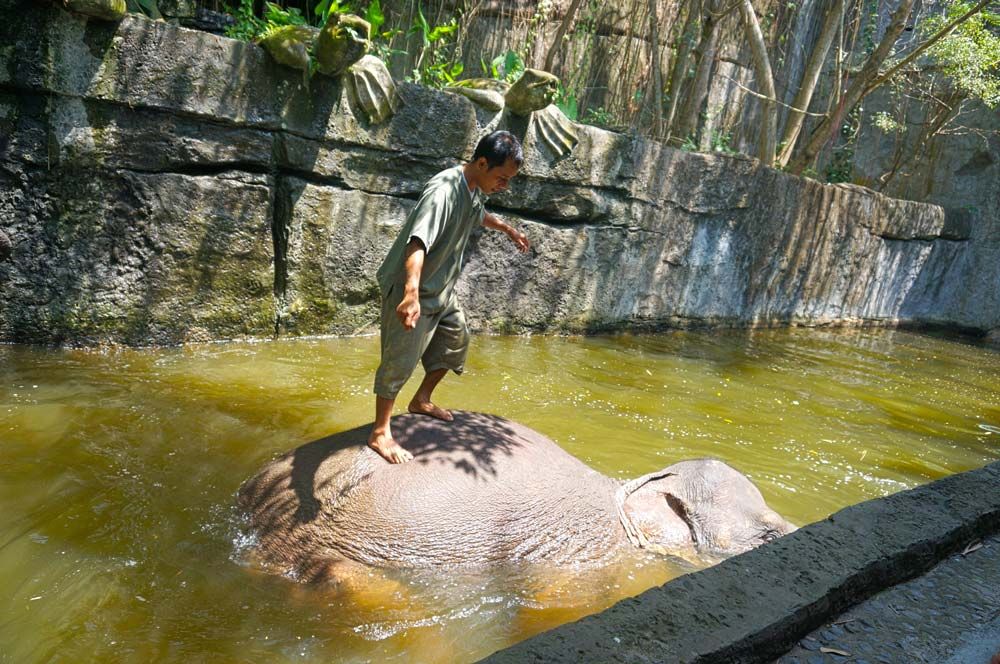 The elephant bathing ritual is a little show where the Mahouts (carers) balances atop his elephant as it is instructed to roll under the water. This is essentially his bath, no scrubbing or hosing down, a neat little elephant trick for the tourists and it doesn't seem to be harming the elephant, the kids loved it, whether visitors require such tricks is questionable.
The show doesn't end there, we were sitting on the elevated Bali hut facing the the elephant bath area. With onelast trick up the elephants trunk, the elephants inhales murky elephant bath water and shoots it out to all the spectators on the Bali hut platform.
It was only until I received a mouthful of regurgitated trunk bath water that I noticed the fixed paper towel stand, where staff proceeded to hand out paper towels and giggle in between "sorry sorry".  You've been warned stand back unless you want to be soaked. It'd be OK if it wasn't poop water.
Allow 30 minutes for this show.
Check out the Elephant show
To get your elephant fix, head to the Elephant show which runs twice a day at 11.45am and 4:30pm, it's a bit of a distance with young kids between the elephant bath and the arena for the Elephant Conservation
and Educational Show. You won't miss much if you arrive a little later except for a front and center seat. There is plenty of open seating available. The arena is spectacular with sheltered seats looking out towards a large center stage complete with glass moat. 
This is a theatrical show based on the theme of elephant conservation. The vibe of the show is much like any slightly cheesy Sea World act, however featuring lots of beautiful elephants.
The story depicts the struggle between resident farmers and wild elephants and how eventually they learn to live in harmony where instead of the elephants being killed they are rehabilitated to places such as Bali Safari Marine Park to be worker elephants. As happy an ending as you can get in Indonesia.
The show is scripted and you feel the elephants have done this hundreds of time. As if on invisible queue the elephants perform impressive stunts such as swimming in the makeshift moat, rolling over as if shot, balancing on two feet, trumpeting and rescuing actors from the water.
At the end of the show several members of the audience volunteer for the final act, amusingly the presenter suggests that these mainly Aussie participants are to get wet. Which wouldn't be particularly funny, but was hilarious as the pool of water had several large floating elephant poops.
Once the show ends, any member of the audience can go on the stage to get pictures taken with the elephant stars, all neatly lined up in a row.
The elephant show is 20 minutes in duration, allow at least 15-20 minutes to queue for a photo opportunity after the show.
Catch feeding time with the white tigers
The white tiger exhibit is built as a replica of world heritage site Ranthambore Fort of Rajastan. You can head up the stairs to see the white tigers in their large natural habitat from above, you can also step into the tigers denat ground level with several large windows offering a great view of the tigers.
Catch the white tiger feeding time which conveniently happen three times each day, the keepers throw a number of enticing raw chickens right by the glass window, where you get so close you can see their blue eyes. These beautiful creatures are apparently diurnal (opposite of nocturnal) and they say the thrice day time feedings is part of normal tiger eating habit.
This is by far the best enclosure at the park and even it's kitchy Indian fort doesn't deter from the mainly positive aspects. This enclosure felt like the typical zoo experience you get in first world nations, the animals naturally come up to the glass window during feeding times, however they have a large space to roam away from the prying eyes of visitors. The tigers seemed well fed and appeared content.
Within the replica fort are other exhibits including snakes and reptile enclosures all presented beautifully.
Allow 20 minutes for this enclosure.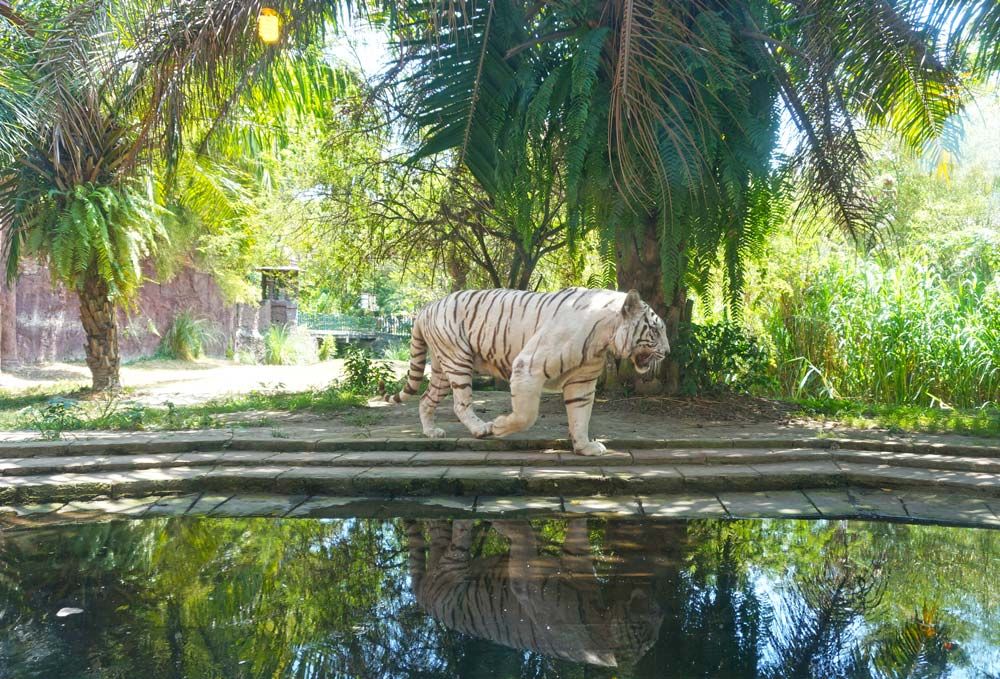 Don't miss the leopard (he doesn't require much of your time)
The leopard enclosure is one of the first animal exhibits you see after the grand foyer. It's a beautiful natural jungle enclosure where you may catch the leopard climbing along the tree branches. Leopards are elusive creatures so to be able to see them with your kids is quite a special moment.
Allow 10-15 minutes for this enclosure.
Splash at the water park
Bring your swimmers. There is great water park with a variety of water slides for all ages, a great toddler friendly water playground, water tipping contraptions,  fountains, a whirl pool, a swimming pool, a wet merry go round with spray guns and an adults pool retreat with bar. Free lockers, showers and change facilities are provided but you need to bring your own towels.
The pools are well maintained and the water clean. It's quite refreshing to have a dip in the pool after walking around in the heat. Be warned though, kids will not want to move on, so it's best to leave this to last. We missed out on a a few attractions due to the time spent here.
Allow at least an hour or two here. Kids love water and there's lots to keep them entertained.
Play at the Fun Zone
Right next to the water park is the Fun Zone. Each Jungle Hopper and Dragon package allows you to ride once on each of the amusement rides. This is more than enough for younger kids, however for older children or kids that love rides, the unlimited rides are only available on the Leopard and Rhino packages.
There are age restrictions on some rides such as the roller coaster, howerver there are enough rides suitable for young kids (age 8 and under) including a multi level car ride, a carousel that is more practical than whimsical (an all metal painted contraption without lights or music and spins quite fast), there is also a water flume ride for the braver kids, trampolines and roller coasters.
As well as the amusement rides, there are dinosaur structures to run around in and nearby is the Jungle Cruise boat ride, though closed for maintenance at the time. On our map it also says a new Hydrolift ride is coming soon?
There weren't many people when we were there, perhaps it was towards the end of the day but this area felt a slightly like an abandoned theme park.  The rides appeared rarely used but were functioning and appeared safe.
Explore the fresh water aquarium
On the map provided, the Marine Park was coming soon, perhaps this new section is worthy of the "marine" section of the parks title. Though not as impressive as an Underwater World, it's still worth a look is the fresh water aquariums, right by the lobby and exit.
This area is small and understated. The tanks are clean and beautiful with interesting variety of fresh water fish from goldfish, colourful local fish of all sizes and even a tank of piranha. You can see these carnivorous fish feast on a whole chicken during feeding time.
Allow 15 minutes for this.
Visit the petting zoo
We ran clear out of time and did not make it to the petting zoo, unlike Bali Zoo where the petting zoo was made up of mainly deer and rabbits. The Bali Safari and Marine Park petting zoo has a large collection of  birds, goats, ducks, hamsters, snakes and iguana. There are also pony rides available in this area.
Allow 30 minutes to get to all the cute animals.
Ride an elephant
My sensitive kids were not so keen on an elephant ride. However, the main attraction is the Elephant Back Safari. An elephant ride which includes (depending on package) a ride through an African themed reserve with non-predatory animals such as antelope, zebra and ostrich.
Tickets for elephant rides cannot be purchased separately, you need to upgrade your package from the general admission Jungle Hopper to the Leopard package which includes a 10 minute elephant ride. The Rhino package at $139 USD is where you get a full 30 minute ride through the safari reserve as well as a VIP safari tour, lunch buffet at the Lion restaurant and special seating at shows.  More details can be found here.
Take a photo with an exotic animal
There is plenty to do without queueing up for a snap with an exotic animal, however for those that are inclined there are photo opportunities with exotic animal such as exotic birds, elephant, lion cub, tiger cub, orangutan and I'm not sure what those weird looking possum raccoon animals are called?
Photos with animals with your own camera are welcomed and free as part of general admission. A fee between 100,000 – 120,000 IDR is payable for printed professional photos.
The animals are apparently monitored for stress and are rotated when necessary. They all appear to be healthy and domesticated or at least well trained.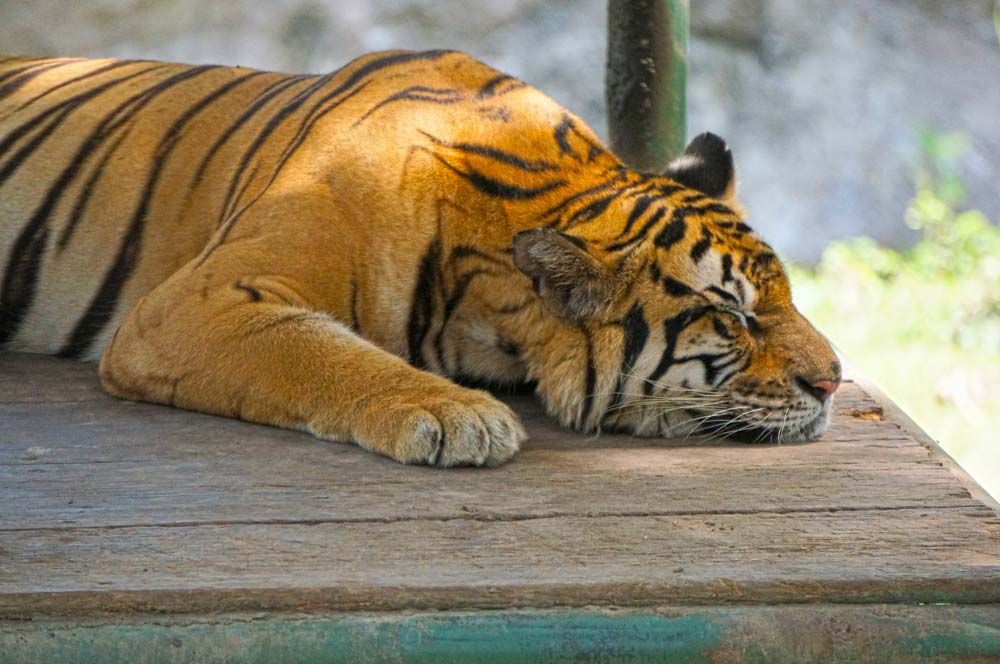 Avoid sharp claws and pet gently. What stood out in my mind when chatting to my doctor is that rabies is a risk in Bali and there is no cure. Whilst you are extremely unlikely and very unlucky to contact rabies, the only prevention is to keep away from animals such as bats (these guys are the nastiest), dogs and racoon looking creatures.
Finally whilst they appeared gentle and docile, these are wild animals and there is a disclaimer on their site that you pet at your own risk.
Getting to Bali Safari and Marine Park
Located on Jalan Bypass Prof. Dr. Ida Bagus Mantra, Km. 19,8 open hours are daily from 9am to 5pm. Night Safari starts from 5:30pm with different times allotted for your buffet dinner and cage tours.
Do not let google maps fool you and allow an 1 hour (1.5 hours depending on traffic) to get to Bali Safari and Marine Park from Seminyak. The traffic is a little unpredictable in Bali.
Getting to Bali Safari and Marine Park with kids is half the experience, hire a driver and the kids will love riding in the back without car seats whilst checking out the organised chaos that is Bali traffic. Bali is so affordable, we paid $55 AUD for an air conditioned 8 seater van complete with chauffeur for the entire day.
By hiring a driver, it allowed us to set our own pace and stop as we pleased. We combined our trip to Bali Safari and Marine Park with a beach play in nearby Sanur as part of a full day out. If we were running late, we could call or text the driver on the mobile to let him know. They were happy to wait for us.
Bali Safari and Marine Park also provides a free shuttle bust transfer for Jungle Hopper packages, which offers a free pick up and drop off service from popular Bali spots around Kuta, Nusa Dua, Seminyak, Legian, Ubud and Jimbaran Bay. With young kids I would still recommend hiring your own driver as it allows you maximum comfort and flexibility.
Cost of Bali Safari and Marine Park
All prices are in US dollars.  If you have US dollars use it to pay the admission into the park as the exchange rate offered to pay in Indonesian rupiah (IDR) is not as good, you lose out slightly. If you read my Complete Guide to Bali with Kids it's best to get some USD for the Visa on Arrival, if you are intending to head to Bali Safari and Marine Park then get a little extra for entry. Check out latest entry costs here.
Kids 3 years and under are free. The age range for a child is 3 years to 12 years of age. An adult is aged 12 years +
There are different package rates;
Jungle Hopper package is your general admission and all you need if exploring with young kids.  Cost per adult is $49 USD or child ticket is $39 USD. This ticket includes:
Jungle Hopper inclusions
One ride on the Safari (one ride is all you will need)
Fresh water aquarium access (included in all tickets)
Animal Show
Elephant Show
Basic (Silver) seating to the Bali Agung Show (the show was cancelled at the time and no other compensation was provided).
Water Park entry
Fun Zone entry (limit one ride per ticket, which is ample for young kids)
Getting this package means you can freely dine at the Tsavo Lion Restaurant as meals are not included. 
No elephant rides offered on this package. 
The Dragon package is the next one up, at $69 adult and $59 Child.
The only difference is a lunch buffet at Uma Restaurant. We had lunch at Uma Restaurant and ordering al-la-carte was inexpensive. Costing less than $10 per head including drinks and we were able to eat when we liked. The buffet did look really good. It appears buffets are at allocated times. Package details as follows:
Dragon inclusions
One ride on the Safari (one ride is all you will need)
Fresh water aquarium access (included in all tickets).
Animal Show
Elephant Show
Basic (Silver) seating to the Bali Agung Show (the show was cancelled at the time and no other compensation was provided).
Water Park entry
Fun Zone entry (limit one ride per ticket, which is ample for young kids)
Lunch at Uma Restaurant (is the only difference)
No elephant rides are part of this package
Leopard
For those an elephant ride then the Leopard package is one of the two packages that offer elephant ride.
Package cost $99 per adult and $89 per child. This is the package with the basic 10 minute elephant ride included, package details are as follows:
Leopard inclusions
Unlimited ride on the Safari (however one ride is all you will need)
Fresh water aquarium access (included in all tickets)
Animal Show (included in all tickets)
Elephant Show(included in all tickets)
A better seating, but not the best (Gold) seating to the Bali Agung Show (the show was cancelled at the time and no other compensation was provided).
Water Park entry
Express line photo with animals (all packages are free, this ticket enables you to be ushered to the front)
Unlimited Fun Zone rides (one ride per ticket is ample for young kids)
Lunch at Uma Restaurant
10 minute Elephant ride
Souvenir
Rhino
The Rhino package is the permium package and the main reason to purchase this is the Elephant Back Safari, the official 30 minute safari through their African themed reserve.
Package cost $139 per adult and $109 per child. This is special VIP treatment through the park, package details as follows:
Rhino inclusions
Welcome drink
Unlimited ride on the Safari (however one ride is all you will need)
Fresh water aquarium access (included in all tickets)
Animal Show (included in all tickets)
Elephant Show(included in all tickets)
Water Park entry
VIP seating (platinum) to the Bali Agung Show (the show was cancelled at the time and no other compensation was provided).
Express line photo with animals (all packages are free, this ticket enables you to be ushered to the front)
Unlimited Fun Zone rides (one ride per ticket is ample for young kids)
Lunch at Tsavo Lion Restaurant (this is the restaurant housed within a Lion den, premium restaurant which you can dine on t
10 minute Elephant ride 
Souvenir
Transfers / Transport provided to and from you hotel 
Getting around
From the main gate, board a short 5-10 minute free shuttle to enter the Bali Safari and Marine park. Prams will need to be folded up as the bus seats are arranged in narrow rows that accommodate 4 -5 people.
There is allot of ground to cover at Bali Safari and Marine Park. However, we navigated the park without a pram with a 2, 4, 5 and 7 year old. The younger ones required a little carrying when they tired though. A stroller or Baby Carrier would have come in handy, especially lugging swim gear around. The pathways were all even and stroller friendly with plenty of space to park the pram.
The only tricky bit would be the Safari Journey were the bus rows are narrow and would require the pram to be parked by the entrance to be picked up afterwards.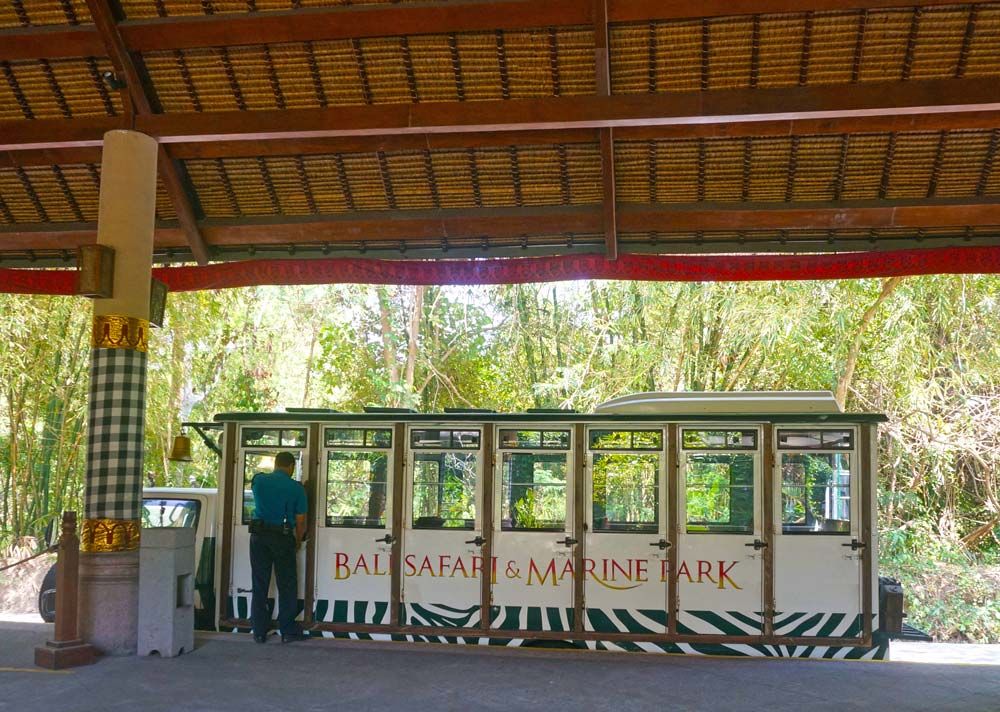 How long do you need
If you want to see it all, arrive at the park on opening time as an entire day is needed. We arrived later and missed out on a few attractions. Gates close at 5pm.
Tips for Bali Safari and Marine Park
No food or drink policy
Leave your water bottle in the car as no food or water is to be brought into the park. Clever policy as Bali is a hot and humid place and everyone needs a drink. If you do bring any beverages, they do store it for you and provide you with a ticket to collect free of charge when exiting the park.
Conveniently, food and drinks can be purchased at the restaurants and kiosks throughout the park. The plus side is that the food and drinks though slightly higher are are not completely jacked up.
Dining options
As you will be spending the day there, you will probably be dining inside the park. Here are the options:
Uma Restaurant
This is the casual dining option and with the exception of the premium Rhino package, all the included buffet lunches are also offered here.
The food is OK, the pizza's looked good. As with any resort type of food, stick to local Indonesian style food for the safe bet.
For those not dining from the buffer, there are various cooking stations to choose from including Italian, Western local Indonesian and Asian specialities. The way it works is that you walk around and jot down what you want to order and pay at a central cash register. You then take the marked ticket back to the cooking station where the chef will prepare your meal. When your order is up you will be called to collect it.
There is also the Uma Kids Corner, a children's play area with a few toys and a toddler slide to keep the kids occupied.
Tsavo Lion Restaurant
We did not dine here but wished we did. Had our little ones not be so hot and bothered we would have walked a little further to the Rsavo Restaurant where you can dine and look out into the resident lion's den.  A similar option is offered at Bali Zoo where it differs is that this is "fine dining" and the dining area is separated by a glass panel rather than cages out to the den.
Convenience stands
There are convenience stands throughout the park that sell light snacks, confectionary, water and soft drink.
Best ticket option for Bali Safari and Marine Park with young kids
The general admission Jungle Hopper is the most affordable choice and with young kids the best way to go. However if you are keen on an elephant ride then consider the Leopard or Rhino packages.
There are other places to ride an elephant including Bali Zoo and Elephant Safari Park.
Free lockers at the water park
There are free lockable lockers downstairs by the change room of the water park. Have husband store all the wet gear in a locker, the water park is 10 minute walk to the right of Lobby Barong where you enter.  I suggest to not let the kids know about the water park at all until the end.
Leave the water park for last
Plan your trip, check out the parks show times and attraction schedules before heading to the Water Park as the kids will never want to leave.
What to pack for Bali Safari and Marine park with kids
Baby carrier or stroller as the park is quite large (optional)
Hand sanitizer as you will be petting animals
Hat, sunnies and sunscreen
Wet wipes, they come in handy for everything
Money in small denominations for drinks and animal feeding
Camera
Sensible shoes
Swimmers, goggles and floatations devices for the water park
Towels as they do not provide this at the water park
Bali Safari and Marine Park or Bali Zoo?
Having been to both, I feel Bali Zoo and Bali Safari Marine Park have their own characteristics. Both have similar activities including feeding animals, petting animals and riding elephants. Both have wildlife shows included in admission and both attractions focus on animals. They also both have tiered packages that go from general admission to complete animal experiences with food and extras.
Where they differ is that Bali Safari and Marine park caters for all age groups with different entertainment experiences including a water park, a safari journey and amusement rides. Bali Zoo is more of an intimate zoo experiences, with more feeding animal opportunities. Both are big tourist draw-cards, therefore go to one or the other, but not both on the same trip.
If I had to pick one that is more tailored for young kids, I would recommend Bali Safari Marine Park as it encompasses more than just animals. However if you are happy with just animals  and want more animal feeding experiences or have limited time and want to spend less you will have as much fun at Bali Zoo.
Cons of Bali Safari and Marine Park
Expensive compared to Bali Zoo
More of a theme park rather than a zoo
Animals are used as entertainment rather than rehabilitation and conservation
Slightly cheesy but not cringe worthy
Marine park is coming soon
Pros of Bali Safari and Marine Park
All encompassing fun day out with the kids featuring animals, entertainment, water park and fun zone
Great animal exhibits
Wonderful safari tour
Kids under 3 are free
Camel rides
Elephant rides
Great live shows
Photo opportunities with exotic animals
Dine upmarket in a restaurant come lion enclosure
Mara River Safari Lodge
You can extend your day trip to stay overnight at the Mara River Safari Lodge. This is the African themed accommodation option within Bali Safari and Marine Park.
The advantage of staying is that you get to look out onto the animal reserve and see animals from your thatched 1 or 2 bedroom cottage. These cottages safely back onto the the themed African savannah, it is the same savannah that the Safari Journey takes you through, which include rhino, zebra, wilderbeest and giraffe.
Whilst it is a little gimicky, it certainly is a unique experience that kids would love. The only thing is that Bali Safari and Marine Park is located in a remote part of Bali, with the nearest restaurants and shops other than that of the park in Ubud which is 15-20 minutes drive. I would recommend staying for 1 or 2 nights for the experience and checking out the many other wonderful places to stay in Bali. Check out my Complete Guide to Bali with Kids here.