It's summer and a great time to visit London with kids. You will find happy Londoners out and about enjoying the longer sun-lit days and balmy nights. Head to one of the beautiful parks and you will see many a pale torso turning shades of pink basking under the blue skies and a rare sun. London comes to life in the summer twilight, with people dining al-fresco or merrily standing shoulder to shoulder, with a warm beer in hand on the pavement outside a busy local pub.
Many thanks to visitlondon.com for a trip down memory lane (living in London was the best 3 years of our lives) and sharing their information for this family fun in London collaboration.
Ride the Tube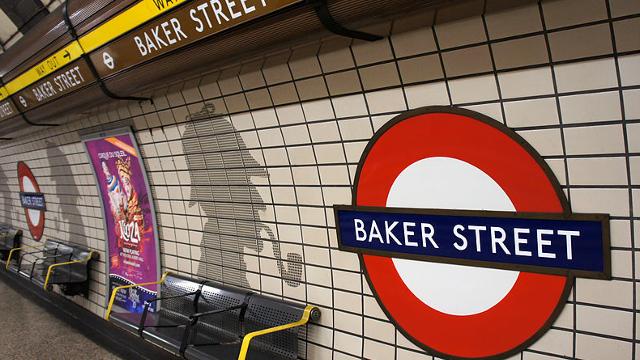 The London Underground or "the Tube" is the oldest underground railway in the world. Londoners love to have a whinge about Tube delays, of it being too hot or too cold or too busy. However, the Tube is London's life blood and it's a cheap, convenient and quick way to navigate London. For visitors, armed with a topped up Oyster Card and a London AZ Map (there are also free maps at train stations) you can get anywhere around London Town.
Oyster Cards can be purchased and preloaded with money from any train station, then simply touch in and out and the fare is taken off your card until it reaches the daily cap. If you aren't using the Tube regularly, there are also "Day Travelpass" paper tickets. The standard Oyster Card cost £5 deposit, which you get back along with a refund of the balance of unused, when you leave London (you need valid ID e.g. drivers license or passport).
TIPS for the Tube with kids
Kids under 11 ride free, accompanied by an adult ticket.
Avoid peak times from 7am – 10am and 5pm – 8pm. Almost unbearable at times as a single adult, it's no place for kids. It gets extremely busy and during the London summer, the tube void of air-con can be stifling.
The tube is not stroller friendly. Be prepared for stairs and lots of them, walking through tight corridors, overcrowded carriages and people avoiding eye contact. Here is a map that lists step free, accessible tube stops.
If you are on your own with stroller (buggy), ask for help up the stairs. Nine times out of ten, somebody will help you.
The Brits are all about orderly conduct on the Tube. Mind the gap, keep kids behind the yellow line and keep to the right on escalators.
Pick up a pocket-size Tube map at any of the stations to help get around.
If you  miss one tube, don't worry another will be along in a few minutes.
You can plan your trip on Transport for London site.
Explore the South Bank
The picture-pretty South Bank packs loads into a walkable, step-free and traffic-free area. The nearest Tube station is Waterloo.
London Eye
Top family attractions include one of the world's highest observation wheels, the London Eye, which takes you to the dazzling height of 135m. A 30-minute rotation on the London Eye costs from £19.10 for adults (£12.60 for kids aged 4-15) if you book online.
TIPS for London Eye with kids
Children under four go free but they still require a ticket.
You can also buy priority tickets if you wish to skip the queue.
The queue can look a little daunting but it actually moves fairly quickly.
The London Eye is busiest between 11am and 3pm so visit outside these hours if you want to avoid a lengthy queue.
At peak time, 28 people will ride in one capsule.
Buggies and pushchairs must be folded flat and all items removed before taking them on board the London Eye.
If your buggy doesn't fold flat, you can leave it in the ticket office where you can also find baby changing facilities.
Toilets can be found in nearby Jubilee Gardens.
SEA LIFE London Aquarium
Next door to the London Eye is the SEA LIFE London Aquarium, where you can see everything from sharks to turtles. The whole experience takes around 1.5 to two hours and is fully immersive as visitors view the sealife via a glass tunnel walkway. Stars of the show include seahorses, octopus, zebra sharks and clown fish.
Adult tickets cost from £18.36 (£13.52 for kids aged 3-15) when booked online. Children under the age of three go free. If you want to skip the queue, priority entrance tickets cost £25.20 for adults and £19.50 for kids.
TIPS for SEA LIFE Aquairum with kids
Children can help feed the stingrays at 11.30am, but this is available on a first-come first-served basis so get there early.
There is a buggy park but this is only available during half terms and peak periods.
There's plenty of room to push your buggy around the attraction and it's probably best to keep it with you in case your little one gets tired.
Southbank Centre
There's normally something fun going on at the world-famous arts hub Southbank Centre, as it often plays host to free family-friendly events and festivals. Take a ride in the singing elevator (JCB glass lift) in the Royal Festival Hall, then watch the skateboarders perform incredible stunts under the building.
Where to eat in Southbank with kids
Southbank Centre homes numerous family-friendly restaurants, including dim sum eatery Ping Pong, noodle bar Wagamama and popular chain Giraffe.
INSIDER TIP secret oasis in Southbank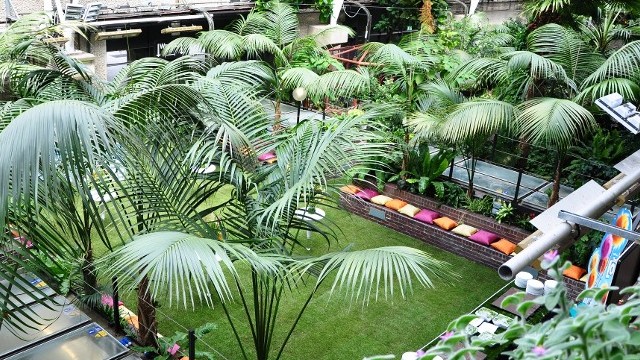 If you're looking for a place to relax, head to the centre of the Barbican Arts Centre where you'll find London's second-largest Conservatory (the biggest is at Kew Gardens). This calm oasis contains more than 2,000 species of tropical plants and trees as well as exotic fish who circle lazily around the ponds. The garden is only open on Sundays from 11am-5pm and Bank holidays.
Visit one of London's best museums for kids
Most of London's museums are free to enter and many offer special programmes of activities for kids. Meet a roaring animatronic T-Rex at the Natural History Museum, or trace the history of the space rocket at the Science Museum. Both museums can be found in London's Museum Quarter near South Kensington Tube station.
Natural History Museum
Highlights of the Natural History Museum include the dinosaurs' gallery; the volcanoes and earthquakes gallery (where you can find an earthquake simulator) and the creepy crawlies gallery which features interactive displays. The Natural History Museum is buggy-friendly; the Exhibition Road entrance is step-free.
TIPS for Natural History Museum with kids
Where to eat – the museum has three cafes and one restaurant, all of which serve up gluten-free, dairy-free and vegetarian options. There's also a picnic area if you prefer to bring your own food.
Toilets and baby-care rooms can be found throughout the museum.
It can get very busy at weekends and school holidays, so we'd recommend arriving early to skip the queues.
Allow three to four hours for your visit, although there is enough to see to fill an entire day!
Science Museum
Next door is the family-friendly Science Museum which caters for children of all ages. There are more than 15,000 objects on display, including Stephenson's Rocket and the Apollo 10 command capsule. There's an interactive garden area, designed for under fives, while the hands-on Launchpad gallery is ideal for teenagers.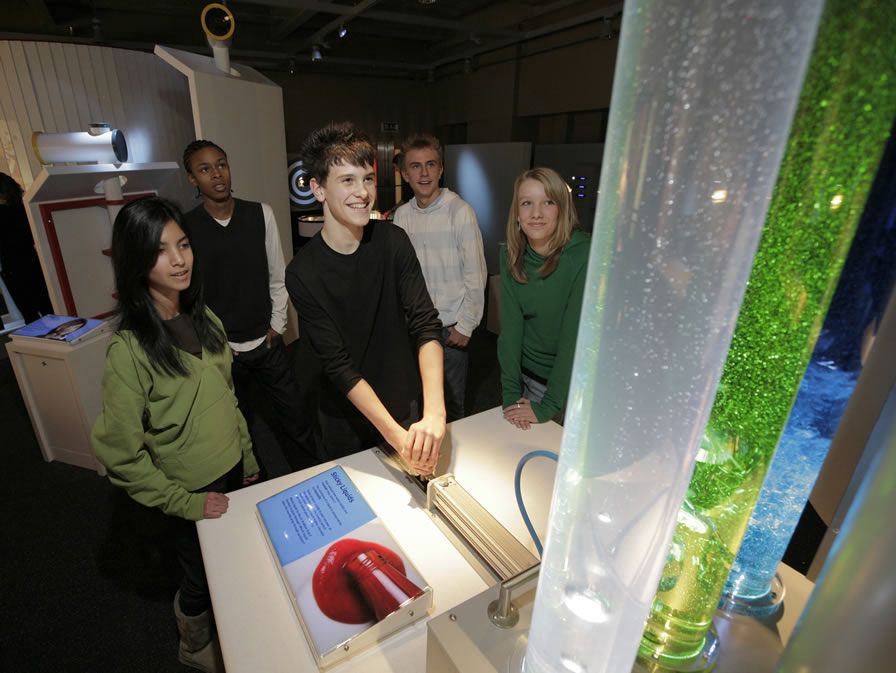 TIPS for Science Museum with kids
The museum is buggy-friendly, with four accessible baby changing facilities.
There are also three cafes and two picnic areas.
Allow three to four hours for your visit.
If the kids aren't museumed out, London has plenty of great museums, other contenders include the London Transport Museum and the Horniman Museum. See a full list of London's best museums for kids here.
Catch a Double Decker Bus
You can't goto London without hopping on an iconic double decker bus with the kids. Take the kids to the upper level, right at the very front for an awesome perspective of London from the road. An insider tip is that the bus is cheaper than the tube and easier to get around in with a stroller (buggy).
Oyster Cards can also be used on London busses and kids under 11 ride free accompanied with an adult.
Best bus routes in London
Step back in time and board a Routemaster double-decker bus on routes 9 and 15. The 9 takes you from Trafalgar Square to the South Kensington Museums.  The 15 goes past St Pauls Cathedral and Tower Hill.
Catch the 88 from Oxford and Regent Street intersection and ride the bust past London icons including Trafalgar Square and Piccadilly Circus, Westminster Palace and The Tate.
From the Museum Quarter in South Kensington, the 74 which takes you past Hyde Park, The Dorchester, Harrods ending at Baker Street near Madame Tussauds.
From Victoria Station the 24 takes you past Parliament and Trafalgar Square, from there it continues to Camden High Street markets.
The 11 is another great route to take you past Westminster Abbey and Horseguards parade, while the 9 goes from Trafalgar Square to the South Kensington Museums.
Detailed London bus route map here.
Get active at London's great parks
Lidos (Pools)
Firstly what's a lido? It's a posh British term for a public pool. Children of all ages will enjoy splashing about in one of London's many lidos, including the Serpentine Lido in Hyde Park, which is open from June to September. Check out a comprehensive list of lido's in London.
You can also hire a pedalo or rowing boat on the Serpentine from Easter until 31 October (£29 for one hour for two adults and two children).
Hyde Park
A quick and affordable lunch is to grab a picnic and head to the park. London supermarkets such as Waitross and Tescos have single serving meals and picnic packs that you can enjoy on the go. The best part of London parks is that you can bring alcohol. Find a perfect spot under a big old tree in Hyde Park and watch the kids play with a glass of vino in hand.
Also in Hyde Park, the kids will love a splash around in the Princess Diana Memorial Fountain, The park has two cafes and toilet facilities.
Children over the age of seven will love rollerblading in Hyde Park, while teenagers will enjoy joining a cycling tour past London's top attractions.
Lee Valley Park
Lee Valley Park stretches 26 mile through London, Essex and Hertfordshire.  hundreds of acres of parkland, sporting fields and  with much to keep the kids entertained. There's lots to do with kids; Lee Valley Park Farm with toboggan rides, petting farm and tractor rides, iceskating at Lee Valley Ice Centre, or ride ponies at at Lee Valley Riding Centre.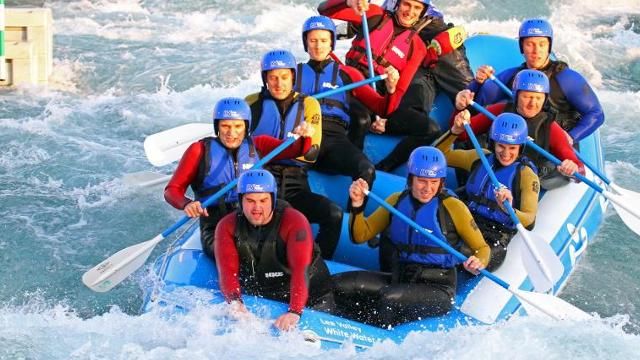 Children aged 14 and over can have an adrenaline-pumping water adventure at the Lee Valley White Water Centre, where they can negotiate the Olympic course used in the London 2012 Games.
See more action-packed activities for kids to enjoy in London.
Other great London Parks
Other great parks include; personal favourite Kensington Gardens as well as Battersea Park, Richmond Park and St James Park.
See a comprehensive list of London Parks and attractions for kids here.
Go toy shopping at Hamleys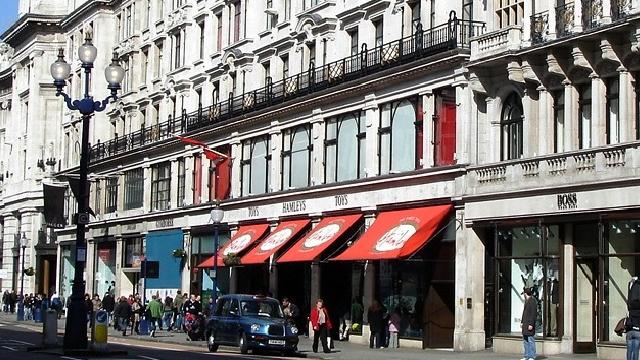 Visit Hamleys of London, an iconic London toy store with seven floors packed with toys for all ages. It's one of the the largest toyshops in the world and the oldest in London.
A total play experience, Hamleys has been delighting adults and children for years from their famous Regent Street store, one of the largest toyshops in the world.
Catch a show in London's West End
London's West End rivals that of New Yorks Broadway. Either one is worth a visit when in town. There are some great kid friendly shows in London's theatre district. Including The Lion King, Billy Elliot, Stomp,  Charlie and the Chocolate Factory and Matilda the Musical.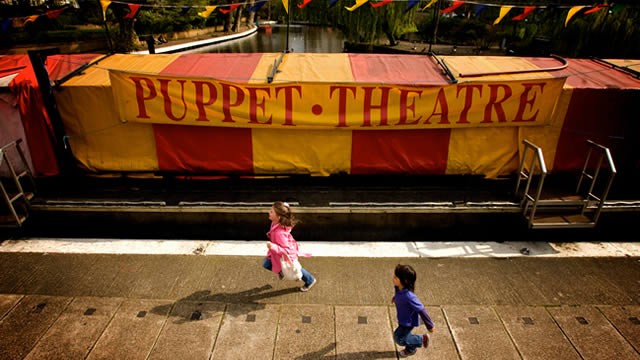 If your kids are so inclined, instead of the large musical productions, try smaller theatre productions that usually run for a small period. Check out kid friendly theatre listings here.
There's also the Puppet Theatre Barge in Little Venice, moored in Little Venice, it is a puppet theatre that travels down the Thames.
Visit Greenwich
Historic and beautiful Greenwich is perfect for a family day out because it's home to London's oldest Royal Park, the Prime Meridian Line and Cutty Sark, the world's most famous tea clipper.
Entry to both the Cutty Sark and Royal Observatory (where you can see the Prime Meridian Line) it costs £18.50 for adults and £8 for children aged from five to 15.
See one of London's top 10 attractions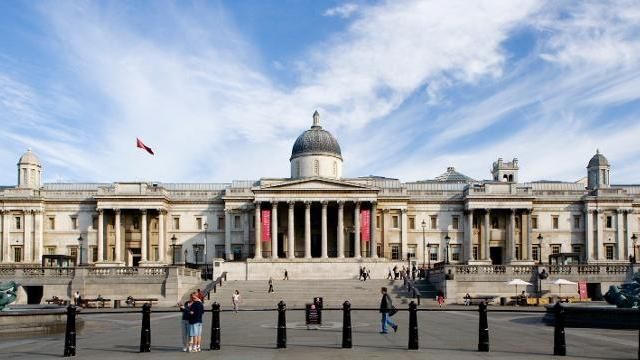 Visit London complied a list of  London's top 10 attractions, based on visitor numbers.
The top 10 includes the aforementioned Natural History Museum; London Eye and Science Museum. The list also includes the world-famous British Museum, home to the Rosetta Stone and the Ancient Egyptian mummies.
Also in the top 10 is wax figure museum Madame Tussauds; Royal Museums Greenwich which encompasses the National Maritime Museum, the Queen's House, Cutty Sark and the Royal Observatory; Tower of London, which houses the Crown Jewels; and the Victoria and Albert Museum which celebrates art and design with 3000 years' worth of artefacts, like textiles and furniture. Art galleries Tate Modern and the National Gallery are surprisingly kid friendly and make up the London's top 10 attractions.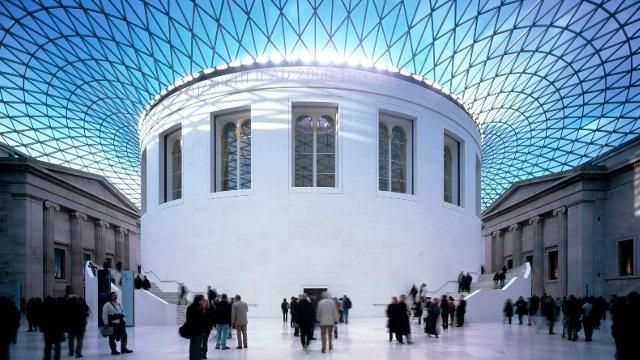 Did we leave anything out? Have a suggestion of a must-see London attraction for kids? Please comment below: