Your Thailand with kids family holiday is likely to begin or end with a stopover in Bangkok and the wonderfully diverse capital deserves a closer look. Discover a city where gilded palaces peppered amongst the towering mega malls, where the traditional collides with the ultra-modern in a most frenetic pace. The wonderfully diverse capital offers a myriad ways to choose your own family adventure whether it's a long tail cruise down the Chao Phraya or cuddling pedigree felines at a plush cat cafe, here is our comprehensive family guide to the best things to do in Bangkok with kids, along with tips and trips to get the most out of the City of Angels – so Bangkok doesn't get the most of you!
Main Menu
Expand menu below
Pros of Bangkok with kids
From the thrifty to the five-star, there are kid friendly Bangkok family accommodation choices galore. Find a huge variety of Bangkok best family hotels, fantastic places to stay withsuperb value for money.
Experience the Thai culture and hospitality at the museums; palaces, temples and open-air markets yet still have the comfortable western conveniences at your fingertips. There are luxury hotels, air-conditioned shopping malls, large supermarkets and a huge selection of clean and delicious places to eat.
Arguably the world's best street food scene at prices that are easy on the hip pocket.
While Bangkok isn't the cheapest destination compared to its South East Asian neighbours, your dollar does go further. When combined with easy and affordable ways to get around Bangkok, inexpensive dining, and great accommodation deals, Bangkok can stand on its own.
Cons of Bangkok with kids
Like any big busy city, not everyone plays nice in Bangkok and there are some seedy parts of Bangkok that is best avoided including Bangkok's red light district of Pat Pong and Soi Cowboy.
Common nuisances include opportunistic theft of personal belongings – keep passports and valuables locked in a safe or hidden away.
More common and most crafty are the well-trained tuk tuk and taxi drivers who take unsuspecting tourists for a long and costly ride. Fortunately, having some street smarts and knowledge is key to avoiding some of the pitfalls of Bangkok
Why families should visit Bangkok with kids
Enjoy a fabulous and fun city on an easy stopover and stay in affordable luxury accommodation and be sure to eat all the all the delicious things Bangkok has to offer and experience the wonderful history and warm Thai hospitality. Packed full of themed family attractions, impressive cultural icons and a dizzying selection of shopping outlets and markets of every kind, there's more than enough to keep kids happy, engaged and entertained.
Best things to do in Bangkok with kids
 Stopping over in Bangkok on your way to a sundrenched Thailand with Kids family holiday? Here's our comprehensive guide to the best Bangkok experiences for families including indoor and outdoor fun, family entertainment, the best places to shop in Bangkok, Bangkok's best eats and even the best day trips from Bangkok for families:
Explore the magnificent Grand Palace
Grand Palace Open Hours: 8:30am to 3:30pm daily. Address Google Map: Na Phra Lan Rd, Phra Nakhon, Bangkok
No trip to Bangkok would be complete without a visit to the marvelous Grand Palace the official residence of Thailand's Royal Family and the very place that Kings of Siam ruled for 150 years.
Although the Royal Family no longer resides at the palace, it remains an integral landmark of Thailand hosting royal events and ceremonies. It's become the people's palace where the humble Thai can worship at the most sacred Jade Buddha.
Until recently it was the place to pay respects to the revered late King Bhumibol Adulyadej whom lay in state for over a year at the Dusit Maha Prasat Throne Hall. He died on the 13th October 2016 after nearly seven decades as King.
Allow at least half a day to explore the Grand Palace's enormous 21-hectare grounds and stroller friendly pathways. Divided into an outer, middle and inner court there are a countless amounts of temples, pavilions and royal buildings to admire. The intricately decorated pediments and statues, manicured gardens and golden spired rooftops around the grounds a marvel in its own right.
Not to be missed is Wat Phra Kaew within the palace grounds, Thailand's most sacred Temple of the Emerald Buddha, carved from a single piece of jade.
How to dress for the Grand Palace
There is a strict dress code to see the Emerald Buddha, the proper attire for the Grand Palace must have shoulders and knees covered and shoes removed outside the temple. The overseers of dress are very particular, while a scarf wrapped over a singlet top is often acceptable dress at other Thai temples, it will not make the cut at Wat Phra Kaew.
A little leniency is granted to kids, where for us shorts below the knees for our 7 year old was permitted, though we packed pants to go under our daughters skirt.
Keep in mind that it's often hot and humid and there is little shade. Pack lightweight cover up clothing to explore The Grand Palace with kids.
TIP Grand Palace Bangkok with kids
Hire sarongs and pants at the Grand Palace
Sarongs or pants unflattering as they are can be borrowed free of charge at the entrance of the Grand Palace to slip over shorts. The location is some distance from the entrance of Wat Phra Kaew, make sure to queue up before making your way to the Emerald Buddha.
The line for the clothes both to borrow and to return can be long, it's best to pack your on clothes or dress appropriately to minimise time.
Beware of the tuk tuk scam
If you're walking towards the Grand Palace, tuk tuk drivers may approach to tell you that it's closed – this is one of the oldest scams in Bangkok!
Tuk tuk drivers will convince you to take a free ride until it re-opens and you'll end up at a jewellery store or random tailor. Whilst drivers aren't fleecing you of a fortune, the scam is a huge time waster. The best way is to avoid tuk tuks altogether, be polite but firm and know that the Grand Palace does not close for lunch, morning prayer or anything else, it is open daily until 3:30pm.
Grand Palace entry fee
Tickets for the Grand Palace cost 500 Baht per person, kids under 120cm are free.
The fee includes entrance to the Queen Sirikit Museum of Textiles which holds a collection of beautiful silk royal attire and evening dresses once worn by Queen Sikrit.
TIP Bangkok with kids
Arrive at the Grand Palace early
It's best to arrive early in the morning at the Grand Palace or later afternoon before closing time to avoid the long queues and tour groups.
Drop lucky coins at Wat Pho (Temple of the Reclining Buddha)
Wat Pho Open Hours: 8am to 6:30pm daily.
Address Google Maps: 2 Sanamchai Road, Grand Palace Subdistrict, Pranakorn District
If you're going to do one other temple in Bangkok aside from Wat Phra Kaew, then perhaps the most interesting for kids is Wat Pho (or Wat Po). Unlike the Grand Palace, you don't need to spend too long here – between 1 and 2 hours is plenty.
Wat Pho stands as one of the city's oldest temples, just to the south of the Grand Palace complex, and is home to a impressive 45-metre long golden Reclining Buddha featuring intricate mother of pearl inlay and Buddhist Sanskrit.
Keep the kids content and purchase a bowl of coins, they can drop one in each of the 108 brass bowls that line the hall of the Temple of the Reclining Buddha, whilst chanting a little prayer – its said to bring good fortune. Coins can be purchased for 20 baht on entry to the hall
SCAM ALERT: Beware, Tuk tuk scammers also run an operation here.
TIP Oldest Thai Massage School
Get a massage
Wat Pho has long been famed as a centre for traditional healing, home to two of Thailand's original massage schools. A great place to get an authentic Thai massage even if you take turns to mind the kids.
Wat Pho Ticket Cost
Tickets to Wat Pho cost 100 Baht per person and massages cost from 250 baht for 1/2 an hour. Kids are free under 120cm.
Let kids run the world at KidZania Bangkok
KidZania Open Hours: Open 10am to 5pm daily (to 8:30pm Saturdays & Sundays).
Address Google Map: Level 10, Siam Paragon 5th Floor, 991 Rama 1 Road, Pathumwan, Bangkok
KidZania is a unique Disneyeque concept where kids work and earn Kidzos (KidZania currency) to buy experiences. It's capitalism for kids done in a super cute way. Kids get to 'work' in a variety of occupations, they can; solve crime as a police officer, hose down a smoking hotel as a fire fighter, attend to the sick and wounded at the hospital, become a flight attendant at AirAsia or attend university which entitles graduates further discounts.
Their hard earned Kidzo's can pay for a load of experiences including; bottling Coke at a mini Coke Factory, manufacturing Milk at Meiji milk station, flipping burgers at Mcdonalds or filling shelves at the 7-Eleven.
For once kids are in full control, parents must be completely hands-off playing a observer role in the immersive scenarios, we parents are not allowed to enter the mini establishments. Find all the grown ups hovering at the glass windows and taking the same snaps. In Kidzania Bangkok there are plenty of parents sitting along the main street on their devices waiting for the kids to finish, they perhaps were not informed of the parent's lounge. Comfy couches, calm mood lighting and free WIFI in an air-conditioned room is located upstairs.
This innovative form of "edutainment" for kids has 24 franchises and growing worldwide. Bangkok Kidzania incorporates it's own Thai twist with a Koh-Kea peanut factory.
How to get to KidZania, Bangkok
Take SkyTrain (BTS) to Siam Station, the central station for both Silom and Sukhumvit Line. Take Exit 3 to Siam Paragon.
How long do you need at Kidzania Bangkok?
Indoctrinated into the KidZania world for the first time we had thought a morning (2-3 hours) would be enough to cover KidZania Bangkok. We discovered this is not enough time to get the most out of the KidZania world.
KidZania is a fully immersive time sucker in the best possible way and families should allow a solid 5 hours to conquer KidZania, or a full day if it's a public holiday or weekend due to the longer lines and bigger crowds.
Cost of Kidzania Bangkok Entry Fee
KidZania is located in the Siam Paragon Shopping Centre and, like many of Bangkok's family-friendly attractions; it's cheaper to visit during the week.
Kidzania Bangkok Tickets cost 1000 Baht for kids aged 4-14 and 600 Baht for adults and toddlers aged 2-3 years from Monday to Friday, with under 2s free.
Weekends and public holidays tickets at the gate cost:
1,200 Baht for kids aged 4-14 years ($48 AUD)
720 Baht for adults and toddlers aged 203 years ($28.80 AUD)
Prices as of May 2018. Check out Kidzania Bangkok website for latest prices.
Buy tickets online with Klook to save
Buy discount Kidzania tickets online here* and receive 15% off tickets. Tickets take 24 hours to confirm.
*Please note this is a affiliate link, meaning at no extra cost to you, we receive a small commission for a ticket sale using the above link. Thank you!
Get hands on at Museum Siam, Bangkok
Museum Siam Open Hours: 10am to 6pm daily (closed Mondays).
Google Map Address: Sanam Chai Rd, Khwaeng Phra Borom Maha Ratchawang, Khet Phra Nakhon.
A short walk from Wat Pho is the Museum Siam, one of the best museums for children in Bangkok. What once was a building for the Ministry of Commerce has been transformed into a modern, bright and beautiful museum that boasts a huge range of super fun and interactive exhibits to help visitors with kids discover Thailand's history.
Kids can shoot canons in an Ayutthaya-era video game or record your own news segment in a 1960s television studio, get hands-on playing with traditional Thai toys and learn how iconic Thai dishes are made. There's plenty of multimedia displays, dress ups and well recreated settings, such as a retro diner which you can step inside or a tuk tuk to drive.
Images courtesy: Wutthichai Charoenburi, Flickr CC
It's rare for a Bangkok cultural history museum to be so engaging for kids, making this a uniquely Thai attraction not to miss.
How long do I need at Museum Siam?
Allow at least 3 hours to explore the many fantastic exhibits at Museum Siam.
Museum Siam ticket costs
Bangkok Museum Siam tickets costs 300 Baht and free for kids under 15 years of age or adults over 60 years old. More information available at Museum Siam website
TIP Museum Siam with kids
Get Free Entry
Museum Siam offers free entry from 4-6pm daily.
Cruise along the Chao Phraya River
Address Google Map: 78/ 24-29 Maharaj Road, Phranakom, Khwaeng Khlong Maha Nak, Khet Pom Prap Sattru Phai, Krung Thep Maha Nakhon
Website: Chao Phray River Express Boat website.
Snaking its way through Bangkok, the Chao Phraya River is the lifeblood of the city and taking in the views from the water is a lot of fun with the family. There are a number of public boat routes, which travel to many of the city's iconic sights, but they can be incredibly busy (especially in the morning and late afternoons) and hard to manage, particularly if you've got young children and strollers.
A good alternative is the Chao Phraya Tourist Boat, which accesses some of Bangkok's most famous attractions – including the Grand Palace, Temple of Dawn and Wat Pho, without the crowds or hassle of purchasing multiple tickets. They depart every 1/2 hour, so you can hop on and off when it suits you.
Half the fun of exploring by boat is dropping in at random stops. We stumbled on a a few local riverside restaurants and enjoyed fresh, authentic Thai food by the rivers edge and taking in the Thai way of life.
Chao Phraya Tourist Boat Tickets (Blue Ferry)
Chao Phraya Tourist Boat Tickets cost 180 Baht per day (unlimited rides) for adults and 90 Baht for kids under 100cm in height. One way fares are 50 baht per person. It's a more expensive than the commuter ferries and much more touristy, however English speaking announcements and extra breathing room is worth the added expense. The tourist boats are still crowded but there's better odds for a window seat.
You can catch a Choa Phraya Tourist Boat from any of the main ferry terminals with Sathorn Pier (near BTS Taksin Bridge Station) an easy jumping on point, the Bangkok tourist ferry is easily recognisable by the English signs, separate tourist queue, no locals queueing and flying the blue flag.
The local Orange Ferry
There are other ferries used for locals that are much cheaper! The Orange Ferry (flying an orange flag) stops at all the major piers, it cost 15 Baht each trip. There are also ferries flying no flags which stop at every stop along the river and costs 10 Baht.
The only real difference is that they are used for local commuters, allot more crowded and there is no English spoken on board so farangs (foreigners) needto pay attention to the stop. Most staff selling tickets at the pier will insist you take the tourist ferry.
Chao Phraya Tourist Boat ferry route
Chao Phraya Tourist Boat ferry terminals
Bangkok Long Tail Boat Canal Tours
Pay extra and hire a private long tail boat to explore Chao Phraya River and the Thonburi canal system (klongs). Zip along the river and take in the local villages and riverfront homes that use the Chao Phraya as a main thoroughfare. Tours generally last 1-2 hours depending on the rate negotiated and you can stop at local neighbourhoods, riverfront shops and temples along the way.
Like all things, long tail boat tours can be a scammers paradise, some tactics used by long tail boat drivers include taking you to private homes and charging a fee, stopping at snack shops and charging tourist prices. Ways to avoid this is to simply pack your own snacks and do not pay until the tour is over.
Cost of Bangkok Long Tail Boat Tour
Bangkok canal tours are almost a right of passage for all visitors to Bangkok, especially first timers. They do come at a cost and families departing the tourist ports including Sathorn Pier expect to pay at a minimum 800- 900 baht per hour. Most long tails quote 2 hours and charge between 1800 – 2500 baht per tour (not per person).
You can save allot of cash by simply taking the ferry. When the local ferries start from 15 baht per person thats 62 Australian cents! Even at 50 Baht per person one way for a tourist ferry, the Bangkok longtail tours seem extortionate. Still $60 – 80 AUD is not breaking the bank and the experience is far more intimate and the kids love it.
Where to find a Bangkok Private Long Tail?
Finding a long tail to take you around is simple and booking in advance isn't necessary. Sathorn Pier is your best bet, there are touts everywhere.
At at any of the tourist ferry terminals are eager touts waiting to escort you around the klongs, otherwise your hotel concierge can direct you to the most reliable option. If you're staying at a river front hotel, you don't have to walk too far to flag one down.
TIP Beware of Scammers here
Grand Palace scams
If you're taking any riverboat to the Grand Palace, you'll probably be greeted at the pier by numerous touts offering to "help" you with information. Just ignore them and keep on walking, as this is a hot spot for scammers!
Explore the canals and discover Bangkok's best floating markets
Floating markets are a nod to the days where the river and canals (klongs) were used as main thoroughfares and connected Bangkok's communities for trade. Long tail boats loaded with fresh produce and wares from silk art, piles of bright marigolds to fresh river caught fish were transported to central markets and sold fresh from the boat.
Cars and trucks have overtaken boats as the fastest mode of transport and floating markets today are aimed at tourists who want to take that quintessential Thai shot. T still is a place for floating markets and for the villages right on the waterways they still take their goods for sale at the floating markets. Here's our pick for the best floating markets in Bangkok to visit.
Beware floating market tourist scam
Even the most intrepid gets scammed and Thailand is one of those places that often pulls the wool over our eyes. We were scammed trying to get to Taling Chan floating market only to end up at Damnoen Saduak. Make no mistake and don't get caught out like we did, for the closest and most authentic floating market – Taling Chan is the best.
For the full tourist experience head to Damnoen Saduak or Amphawa which 90-100 kilometers from Bangkok yet still worth the cheesy fun if you have a day to spare. They are the largest and most lively floating markets and there is a way to do them without feeling like a tourist trapped.
TIP Bangkok Weekend Markets
Weekend is best for floating markets
Most floating markets are only open during the weekends. Some tout a weekday opening but there's a lack of variety and you do not get the full effect.
1. Taling Chan floating market – best
Taling Chan Floating Market Open Hours: 8am to 6pm Saturdays and Sundays only.
Address Google Map: 300 Soi Chak Phra 17, Khwaeng Khlong Chak Phra, Khet Taling Chan
Compared to Damnoen Saduak and Amphawa Floating Markets, Taling Chan is tiny. What it lacks in size makes up for in heart, there's still enough bustle and authenticity to make it one of the best…particularly if you have kids in tow. There aren't the overwhelming crowds to deal with and there's also a small children's play area.
Time your visit for lunch and you can relax by the water while feasting on freshly cooked crabs and barbecued prawns, or jump aboard a longboat to explore the tranquil canals and soak up the village life. Kids can feed the schools of river fish from the jetty afterwards.
The only downside of Taling Chan is that it's a little tricky to access using public transport and catching a taxi is the best option. Insist with your driver that you want to goto Taling Chan and negotiate a price before riding otherwise they try to take you to Damnoen Saduak which is further and far more touristy.
Getting to Taling Chan Floating Market – taxi
Taxi to Taling Chan floating market should cost 200 – 250 baht (price as of April 2018) with a meter or savvy bartering. It should take 30-40 minutes depending on traffic. Make sure the drier takes you directly to Taling Chan market and not a long tail boat hire stop.
Getting to Taling Chan Floating Market – bus
Families wanting to brave the public bus, the No. 79 Orange Air-Conditioned Bus takes you to Taling Chan Floating Market. It can take up to an hour depending on the traffic. It's super cheap at 28 baht per person!
The easiest bus stop to embark on is Phutthamonthon Sai 2 Depot at the front of CentralWorld. The Bus 79 can also be caught at Siam BTS Station, across from Siam Paragon Shopping Center. Tickets to be pre-purchased from conductors at the signed stop.
The benefit of catching the bus is that taxi drivers will not scam you and take drop you at a longtail boat tourist spot, where you fork over 1000-1500 baht for a private long tail – that old chestnut!
TIP floating market boats TIP
Tourist boats private or public?
Shared tourist boat tours cost from 50 Baht per person. If you don't want to share a longtail, be prepared to pay 1000-2000 Baht. Open-air foot massages are available by the riverside for 200 Baht.
2. Damnoen Saduak Floating Market – touristy
Open air platforms line either side of a wide central channel where long tail boats bob shoulder to shoulder forming Damnoen Saduak Floating Markets. Aboard the longtails find ladies frying squid on makeshift grills or slicing up piles of rose apples and guava for sale.
What was once a central market where local communities come to sell their fresh produce has turned into a floating market serving tourists. Amongst the food vendors are boats laden with overpriced souvenirs and food. Be prepared to pay 5-10 times the price of what you would at the regular Bangkok markets.
Is Damnoen Saduak Floating Market worth it?
The biggest floating market in Bangkok is still a worthwhile experience despite its supremely touristy feel. If you don't mind paying the inflated prices, the old canal system is worth a look and we enjoyed the crazy experience of being wedged between other boats, bobbing like bait as hundreds of ladies try to unload their 'Same Same but Different' t-shirts, tuk tuks made out of Coke cans and parcels of sweet sticky mango rice.
Damnoen Saduak Floating Market – taken for a scam & costs
Having done most of the big-ticket items in Bangkok and with a whole day to spare, we hailed a cab from our hotel with no firm plans thinking we might drop into nearby Taling Chan Floating Market. Our mistake was not researching floating markets and trusting our taxi driver to do the right thing.
Our sly and slithery taxi driver insisted that Damnoen Saduak Floating Market is best and drove us the 100km (1.5 hours) to a private long tail port, which is essentially a tourist-holding station, where we were then charged 1800 baht ($75 AUD) for a private long tail for an hour trip through the old canals – not knowing there is a cheaper and more authentic alternative.
Do no make our mistake and insist on driving directly to Damnoen Saduak Floating Market. Buses, cars and taxis frequently and easily reach the floating markets and you do not need to navigate the back channels with a long tail.
Visiting the markets the scam free way does mean you miss out on a long tail boat ride through the klongs which is a worthwhile but expensive venture. While you do pass by local homes and neighborhoods, you mostly drift pass canal front stores that try to sell you the same old tired tourist souvenirs.
It's best to explore Damnoen Saduak Floating Market on foot where you can hail long tail from the waters edge to sample the food and boats are more than willing to row over to offer it to you.
Short rides are also offered for 100 baht per person if you want to experience the markets from the water.
TIP Damnoen Saduak Floating Market
High mark up - barter hard
Bartering for food is not the norm. For souvenirs however barter hard. Dare to go as low as 1/10th of the initial starting price and slowly work your way up.
We learnt the hard way, bartering for a sandalwood fan with a price tag of 500 baht we bartered down to 150 baht or $6 AUD only to find it in a street marketplace for 80 baht that's $3.33 AUD sticker price without haggling.
Getting to and from Damnoen Saduak Floating Market – Taxi
To make the most out of a bad situation, we negotiated with our Thai taxi driver to pay a 2000 Baht flat fee for the day ($83 AUD). This allowed us to get back some control stopping at nearby Maeklong Railway Market – which is worth a look.
A taxi fare to Damnoen Saduak Floating Market from Bangkok one way should cost between 600 – 800 Baht depending on traffic. It's a 1.5 hour drive and 90 km from Bangkok central. It's worthwhile making it a day trip by hiring a driver to stop and visit nearby attractions (Amphawa Floating Market and Maeklong Railway market are nearby).
Day trip suggestion
Hit the Maeklong Railway Market first timed with a train passing by then head to Damnoen Saduak Floating Market for lunch, meander through the klongs before taking in the Amphawa Floating Market by night.
The best piece of advice is to always have a plan, don't wing it and have a random day in in Bangkok or risk being taken for a ride.
Private driver hire cost in Bangkok
Private drivers should cost around 1600-1800 baht for an 8-hour day depending on your savvy bartering skills. Prices as of May 2018. Tipping is not required though you can for great service.
Hire Bangkok private driver without haggling
Don't want to be scammed or have to haggle over the price for a private driver? Eliminate one of the most frustrating and disliked thing when in Bangkok.
Fortunately you can hire a private driver to drive you wherever you like within Bangkok city limits for a half-day or full day without the need to haggle or be taken for a ride.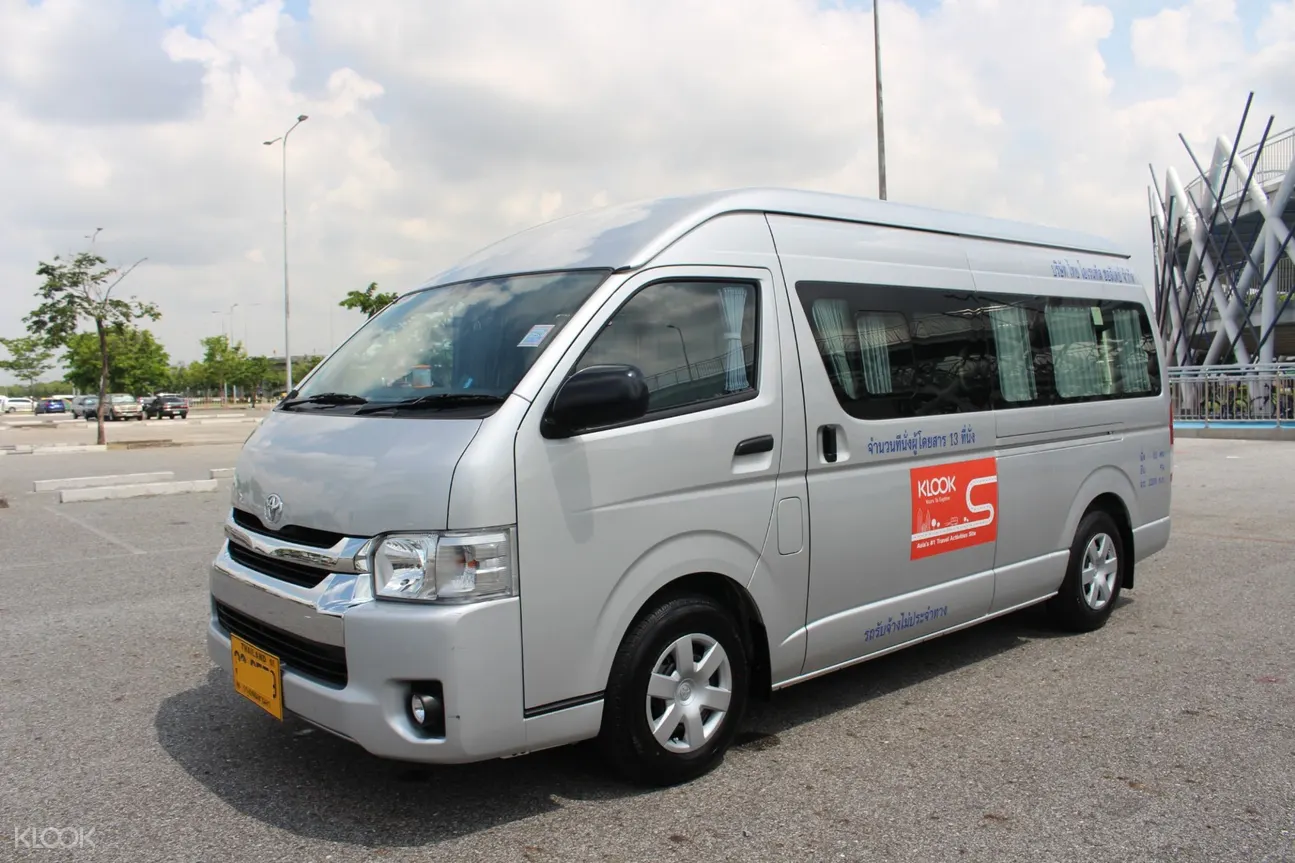 Klook offers licensed drivers in air-conditioned cars (seats 3) or vans (seats up to 10) for the same price you would pay bartering with a random, slightly dodgy taxi driver.
Click here to hire a private driver*
*This is an affiliate linking, meaning at no expense of your own, we receive a small commission if you purchase from the above link.
Take a long boat at Amphawa Floating Market
Amphawa Floating Market Open Hours: 8am to 9pm Fridays to Sundays – evenings are best.
Address Google Map: Amphoe Amphawa, Chang Wat Samut Songkhram.
While Damnoen Saduak Floating Market has lost much of its authenticity, the nearby Amphawa Floating Market still offers an essence of a large Thai floating market with a more romantic and less touristy setting. As domestic Thailand tourists from other regions tend to visit this market it still retains an air of Thainess.
Amphawa Floating Market is located to the west of Bangkok and takes place on weekends. Although it's open from 8am, the best time to go is in the early afternoon. Meander through the stalls and pull up a canal side bench seat as boats pull up to serve you a feast of Thai food.
Amphawa Floating Market is one of the only evening weekend floating market close to Bangkok, offering a superb choice of seafood options overlooking the canals, as well as boat-based vendors who will cook dishes fresh to order.Whilst food is the name of the game here, there are toy and craft shops to keep the kids content.
Long tail boat tours are offered for 50 -100 baht per person and can take tourists around the surrounding canals to see the orchards and small-scale farms, as well as the hidden temples.
TIPs Amphawa Floating Market
Amphawa can get very busy, so keep a close eye on young ones and your personal possessions.
Make it a Thai market day trip as both Amphawa and Damnoen Saduak floating markets are close by as well as the must-visit Maeklong Railway Market.
Getting to Amphawa Floating Market – taxi
Taxi to Ampahawa Floating Market should cost 500- 600 Bahtone way (price as of April 2018) with a meter or savvy bartering. It is 85 km from Bangkok central and should take 1 hour and 20 minutes depending on traffic. Make sure the driver takes you directly to Amphawa Floating Market and not a long tail boat hire stop.
Hiring a private driver or taxi for a day to Amphawa Floating Market
It's worthwhile making it a day trip by hiring a driver to stop and visit nearby attractions as Damnoen Saduak Floating Market and Maeklong Railway Market's are nearby. Full day drive cost 1500 – 2000 Baht per day (8 hours) depending on your savvy bartering skills.
Click here to hire a private driver*
*This is an affiliate linking, meaning at no expense of your own, we receive a small commission if you purchase from the above link.
Getting to Amphawa Floating Market – bus (shared minivan)
From Southern Bus Terminal there are Mae Klong Railway Market tours that combine the Amphawa or Damnoen Saduak Floating Markets, depending on which day you visit for 80-90 baht per person. It's a 1.5 hours drive in a shared mini-van with the family and departs when the van is full or on the hour.
Watch as trains rattle through the Maeklong Railway Market (Day Trip Idea)
Maeklong Railway Market Open Hours: 6:30am to 5:30pm daily.
Address Google Maps: Kasem Sukhum Alley, Tambon Mae Klong, Amphoe Mueang Samut Songkhram
The Mae Klong Railway Market is most adored in our family, while it is quite spectacle witnessing a fresh seafood market positioned right on the train tracks. It's discovering the authentic and unfiltered 'Thainess' that appeals. It's as close as we got to the real Thai way of life with warm smiles from stall owners who weren't out to sell you knock of sunglasses.
The fresh outdoor market is located directly on a working train line where stall owners swiftly and adeptly retract their awnings and pull in their plastic mats filled with fresh caught fish, green vegies and sides of pork as one of the 7 daily trains that rattle through the track each day.
Getting to Maeklong Railway Market – hire a car or taxi is best for families
Located on the Southwest corner of Bangkok, the easiest way for families to get to Mae Klong Railway Market from central Bangkok is by taxi. It is also the most expensive option as well. A one-way trip can cost between 600 – 800 baht and takes 1-1.5 hours depending on traffic.
Private hire of taxi to Damnoen Saduak Floating Markets and Mae Klong Railway
We hired the taxi for a day for 2000 baht (a bit overpriced pay 1600-1800 baht) to take us to and from Bangkok and to nearby Damnoen Saduak Floating Markets – stopping for breaks as we pleased.
TIP Maeklong Railway Market
Inexpensive taxi ride from floating markets
If you wish to do it on your own, from Mae Klong Railway Market a taxi costs around 100 baht and 10 minutes drive to Damnoen Saduak Floating Markets or Amphawa Floating Markets. The songthaews – a cheap and cheerful shared truck a costs 8 baht per person! and goes when the truck fills up.
Getting to Maeklong Railway Market via shared minivan
From Southern Bus Terminal (Sai Tai Mai) it costs 120 baht per person return to ride the shared minivan the 1.5 hours to Mae Klong Railway Station.
To get to Southern Bus Terminal – Sai Tai Mai, take the BTS to Victory Monument and catch bus 28 to the terminal or take a taxi that'll cost 50-100 baht depending on your haggling skills. Staff at the train station can direct you to the shuttle bus to the terminal. At the Souther Bus Terminal, the Mae Klong Market minibus's depart as the fill up.
From Southern Bus Terminal there are also Mae Klong Railway Market tours that combine the Amphawa or Damnoen Saduak Floating Markets, depending on which day you visit for 80-90 baht per person. It's a 1.5 hours drive in a shared mini-van with the family.
Getting to Maeklong Railway Market via train
Pull up at Maeklong Railway Market station and watch as the umbrella stalls retract. Pop your head out of the window to see baskets of fresh fish and packets of dangling Thai snacks on the edge of the working tracks.
Catching a train to Maek Klong is perhaps the most whimsical of journeys and definately the most economical way to get to Mae Kong Railway Market where you pass through local townships and rattle past the real Thai way of life. It's also the slowest and most convoluted with several transfers required, a challenge with kids but not impossible.
Steps to visit Maeklong Railway Market by train
If you still want to give it a go with the family the one-way train ride takes 2.5 hours and starts at Wongwian Yai Railway Station. The best way to get there for a family is to take a tuk tuk or a taxi. A cheaper option is to catch the BTS to Wongwian Yai Railway Station and walk the 15 (25 minutes with kids) to the railway station which is not part of the BTS. Be sure to get to Wongwian Yai Railway station ell in advance of the departure time as there are only two morning trains run from Wongwian Yai Railway Train daily.
From Wongwian Railway train stop take the train to Maha Chai train which takes 50 minutes.
At Maha Chai disembark to catch the train on the other side of the Tha Chin River to Maeklong. Take a short ferry crossing from Maha Chai to Ban Laem train station on the other side. Ferry tickets cost 3 baht and a further 5 minute walk to Ban Laem train station.
At Ban Laem railway station catch the train to Maeklong Railway Station for the markets and takes approximately an hour.
To return to Bankgok from Maeklong Railway Market you can catch the train back and do it all again on the reverse or take the minibus (70 bhat) or taxi back (600 baht) back to Bangkok.
Let off some steam at BOUNCE inc Thailand
Bounce Bangkok Open Hours: 10am to 10pm daily. Address Google Map: 139 Ratchadaphisek Rd, Khwaeng Din Daeng
Travelling with kids does involve some give and take, swap temples and markets and let the kids loose with over 80 interconnected trampolines at BOUNCE INC Bangkok.
Those familiar with BOUCNE INC will find a similar set up including foam pits, soft obstacles, loads of trampolines and most importantly there are mindful staff keeping an eye out on kids on the trampolines.
Bounce inc has two indoor trampoline parks, The Street boasts Asia's largest trampoline park, positioned in the East corner of Bangkok and not accessible by train (taxi is best) it's not convenient to get to. The EmQuartier Bounce Thailand park is far more central.
Super central location – Bounce EmQuartier
EmQuartier Bounce is located within Bangkok's luxury shopping mall conveniently by Bangkok Metro Station – Phrong Phom BTS on the Sukhumvit line. Lots of central Sukhumvit hotels are within reach including Holiday Inn Bangkok, Hyatt Palace, DoubleTree by Hilton Hotel and Novotel Sukhumvit.
Across the road is Bancharsiri Park a sprawling lush green public park with a large lake, grassed running space, grand old trees and a little playground.
Cost of Bounce inc Bangkok
Book in advance to secure your desired slot. Kids must be three years or over to participate and prices are according to height. It's 490 Baht for those over 110cm and 390 Baht for kids who are shorter.
Discount Bounce Bangkok tickets
Klook offers a general admission ticket for 490 Baht (50 baht discount than at gate) The main benefit of purchasing with Klook is you can cancel with 24 hours notice. Buy discount Klook*
*This is an affiliate link, meaning at no cost to you, we receive a small commission if you purchase tickets using the above link.
Shop 'til you drop
There's no doubt about it – Thai's love to shop! An abundant neon-lit malls beckon. Enjoy Thai's favourite past time and get your shopping on! There are many a clean air-conditioned corridor to stroll and shiny gravity defying escalator to ride that lead to floor upon floor of retail heaven.
What we love best about Bangkok is that you can step out for cultural enrichment, when its all too hot, humid and chaotic you can retreat into these convenient and familiar buildings of metal and glass and enjoy all the familiar western comforts.
Each shopping complex houses everything a family needs. Most are setup with a huge inexpensive food court, great for families to grab a bite or indulge in sweet treats. There's usually a cinema showing recent releases in both English and Thai and some have huge a supermarket selling popular international and domestic brands – an easy way to grab all your baby and toddler supplies.
TIP Bangkok cinemas with kids
Cheap new release movies
Movies are cheap! Depending on the time and day of the week, tickets in English can cost 100 baht per ticket ($4 AUD) for the latest releases. Pay a little extra for premium reclining seats, lounge access and some offer a foot massage.
Clean, comfortable and oh so familiar
Each big shopping mall is usually anchored by a department store and major brands include H&M, Zara and Top Shop. For the kids there are playgrounds, toyshops, video games and some have a big scale indoor entertainment complex attached.
Everything you can possibly need is at your fingertips all at very reasonable or prices. There's no need to panic if you've left a power adapter, battery pack, iphone cable, swimmers, shoes or underwear at home. Here are the best shopping malls in Bangkok.
The best shopping malls in Bangkok for families
Here are some of the best shopping malls in Bangkok with kids:
MBK Center
MBK Open Hours: 10am-10pm daily.
Address Google Maps: Phayathai Rd, Pathum Wan, Khet Pathum Wan
An old favourite, MBK Center or Mah Boon Krong is home to over 2000 stores across eight levels, four of them made up of Japanese department store Tokyu. Outside of Tokyu most shops sell your run-of-the-mill knock offs and souvenirs at questionable quality.
Still a bargain can be found and it's the goto place for imitation handbags, fake watches, cheap shoes, aftermarket iPhone accessories and your knock off designer clothing labels which extend to kids clothing, shoes and even toys. Fake LOL doll anyone?
Most shoppers are surprisingly local Thai's and MBK is exceptionally busy on public holidays and weekends. Just don't expect to pay the local Thai price for goods you can buy at any street stall, farangs attract a higher mark-up on goods.
TIP MBK Shopping with Kids
Barter at MBK
It's essential to barter at MBK where you can take 20-30% off the origina price depending on your savvy bartering skills.
Between the "real leather" belts, "genuine designer" sunglasses and cheap "Real Polo" tops there are plenty of food stalls and bubble tea stands to sate any shopper's hunger. Just for kids, the top floor is home to an arcade centre and cinema, where you'll find local teens eyeballing other young Thai's in near matching outfits.
Siam Paragon
Siam Paragon Open Hours: 10am-10pm daily.
Address Google Maps: 991 Rama I Rd, Khwaeng Pathum Wan, Khet Pathum Wan
Siam Paragon is the 6th largest shopping mall in Asia and a monolith if you include its adjacent cousins Siam Discovery, Siam Centre and Siam Square. The mall dedicates it's retail to luxury Chanel, Louis Vuitton, Ferrari and Harry Winston amongst the high-end brands calling the shopping complex home.
The shiny Siam Paragon occupies a central location in Bangkok's Pathum Wan district, easily accessible by the Siam metro station (BTS) on both the popular Silom and Sukhumvit line.
While window shopping is fun! We love Siam Paragon for the huge selection of kids entertainment options attached to the mall including South East Asia's largest aquarium Sea Life and the mega fun Kidzania attraction.
There's more kids indoor entertainment on the top floor of Siam Paragon with 38 lane Blu-O Bowling alley, a 15-screen Paragon Cineplex with IMAX and First Class options and 12,000 square concert hall.
Awesome Food Selection at Siam Paragon
The food is absolutely sensational at Siam Paragon with luxe restaurant options including Four Seasons restaurant, heralded for its roast duck, Talin Ping for authentic Thai cuisine and Nuer Koo for the famous Thai beef noodle soup with fancy additions like Wagyu or Kobe beef.
As well as dine in restaurants there is a sensational Food Hall divided into take-away stalls offering mouth watering international cuisine including Thai skewers, Japanese baked cheesecakes, savoury Thai pancakes, matcha ice-creams and banana Roti's to a Food Court with a variety of stations including Northern Thai noodle soups, Vietnamese stir fry, Malaysian curries and Chinese BBQ all cooked to order and paid via a swipe of a pre-paid card.
Finally the huge Gourmet Market high-end supermarket occupies the ground floor with aisles upon aisles of carefully presented local and international fresh produce and proudcts. Here's where you can pick up import quality cherries, organic juices, Australian milk and yoghurts, Huggies brand nappies and Italian olive oil.
Central World
Central World Open Hours: 10am-10pm daily.
Address Google Maps: 999/9 Rama I Rd, Khwaeng Pathum Wan.
Down the road from Siam Paragon, is Thailand's largest shopping mall and tenth largest in the World with over 10,000 squares of retail shopping heaven. Conveniently accessed by the metro, its adjacent to Chit Lom BTS station on the Sukhumvit line.
Central World has absolutely everything you need under one roof. Unlike Siam Paragon the mall targets the middle class with high-street retailers including H&M, Uniglo and Toys R Us and huge Japan department store chains Isetan. The 500 stores are made up of big international brands including Top Shop, Miss Selfridge, Starbucks and Crocs are local Thai labels.
Central World has its own 15-screen SF World Cinema, a kids train shuttle runs through the mall for a small fee and there's also an indoor ice-skating rink.
GROOVE Dining
The wow factor for Central World comes down to the ultra chic GROOVE dining section at Central World shopping mall. GROOVE offers delicious restaurants including; Taling Pling and Greyhound Café dishing up modern Thai fusion, Mejico for Mexican cuisine, Kum Poon for Thai street food, popular Dim Sum franchise Din Tai Fung and Michelin Guide featured Chabuton ramen house.
CentralWorlds excellent Flavour Food Court located on the 7th floor and behind the Food Hall offers an astounding choice of international food at affordable prices.
Like Siam Paragon, the food ordered at the Food Court stations are paid by a pre-paid swipe card. Choose form a range of Thai mains as well as Singaporean Hainan Chicken Rice, steamy bowls of Vietnamese Pho, spicy Indian curries and Chinese hot pots.
Terminal 21
Terminal 21 Open Hours: 10am-10pm daily.
Address Google Maps: 88 Soi Sukhumvit 19, Khwaeng Khlong Toei Nuea, Khet Watthana.
We stayed at Grand Centre Point Terminal 2 and chanced upon Terminal 21 shopping mall attached to the best luxury family friendly Bangkok hotel.
Put Terminal 21 on your list of must-shops, it's not famed for being the largest, it's a perfect sized mall where its large enough to wander around, has everything you possibly need, yet doesn't have the overwhelming feeling of some of the mega malls.
Conveniently located on central ASOK (BTS) station and Sukhumvit Metro (MRT) line. These stations can take you pretty much anywhere on the train lines.
Floors of retail outlets are sorted into a quirky airport themes of both Thai and internationally recognized mid-ranged brands combined with a SF Cinema, smaller scale Gourmet Market supermarket, a variety or restaurants including popular dims sum franchise Tim Ho Wan, Hokkaido Cheese Tart, Tony Romas ribs and steak and old favourite KFC.
Pier 21 Food Court – so cheap!
There's also an excellent Pier 21 Food Court located on the top levels with a huge selection of Thai and Asian food stations. Food prices are cheaper here, the same quality of food offered at Terminal 21 is half the price of meals charged at Siam Paragon's food court.
While not the biggest, don't let the size fool you, Terminal 21 it's packed to the brim with 9 levels of great Thai boutique labels and over 600 retailers including H&M, Paul Frank, Anello, Crocs and Mango.
Platinum Fashion Mall
Platinum Fashion Mall Open Hours: 8am-8pm daily.
Address Google Maps: 222/5974 Phetchaburi Rd, Khwaeng Thanon Phetchaburi, Khet Ratchathewi.
For women who have a penchant for clothes shopping this is the place to be. Ditch the kids and enjoy 11 floors of fashion and accessories with over 2000 retail outlets. It's the largest wholesale fashion outlets in Thailand, however the public are welcomed to purchase items at retail prices.
Platinum Fashion Mall resembles a multi-level air-conditioned version of the Chatuchak Weekend Markets with a focus on clothing and decent bargains due to the predominantly Thai local shoppers compared to the large tourist numbers that hit Chatuchak.
On the 5th Floor of Platinum Fashion Mall is the Platinum Food Hall which offers tasty, inexpensive Thai food and drink and a well earned break to rest those shopping legs.
Getting to Platinum Fashion Mall
The only downside to Platinum Fashion Mall is that it is not accessible directly from the BTS. Located in the Petchaburi area, next to Pantip Plaza, the nearest sky train is either Ractchatewi or Chidlom (or Chit Lom) on the Sukhumvit Line and then a taxi or tuk tuk ride away. Expect to pay 100 baht to get to Platinum Fashion Mall, though some tuk tuks won't take you for less than 150.
Pantip Plaza Pratunam
Pantip Plaza Open Hours: 10am-9pm daily.
Address Google Maps: 604/3 Phetchaburi Rd, Khwaeng Thanon Phetchaburi.
While mum shops at Platinum Fashion Mall, dad and the kids can wander Pantip Plaza next door. The largest IT shopping mall in Thailand with five floors and hundreds of small tech shops offers a little more excitement than fashion shops.
Geek out with everything you could possibly want, what I love is the extra mile vendors will go, from cleaning your iphone screen and applying the screen cover on, to installing (jailbreaking) software for your hard drive or recovering SD cards. They do it here and its cheap!
Pantip Plaza is the goto shopping mall for all things tech from computers, laptops, replacement parts, phones, laptops, cameras and IT gadgets and accessories, new or second hand, this is the place to get them at the cheapest prices around.
There are drones and kids electronic toys like walking dogs, wireless microphones and dancing robots to buy here as well. As is the case with all shopping malls in Bangkok, there's a cheap and cheerful food court on the top level.
Images by Hajime NAKANO
TIP Pantip Plaza with Kids
Black market tech
A thriving black market operates here, ask around and you'll be lead to back rooms where pirated software, copied DVDs, jail broken ipads and aftermarket accessories like GoPro housing and monopods can be purchased for a fraction of the retail price.
Getting to Pantip Plaza
Take sky train to either Ractchatewi or Chitlom BTS on the Sukhumvit Line before hailing a taxi or tuk tuk to Pantip Plaza. Expect to pay 100 – 150 for the ride depending on traffic.
Escape the city chaos at Lumpini Park – Bangkok's oldest
Lumpini Park Open Hours: 4.30am-9pm daily.
Address Google Maps: 139/4 Thanon Witthayu, Khwaeng Lumphini, Khet Pathum Wan
The first public park in Bangkok and the city's largest is located adjacent to the Silom MRT Station. Lumpini Park offers a welcome respite from the busy streets of Bangkok. Relax beneath its shady trees and colourful pagodas and pavilions.
A series of canals winds around the park to the central lake where you can rent swan-shaped paddleboats.
Get a glimpse into Bangkok life, where your kids have a chance to play with the local kids. Partake in a tai chi or ballroom dancing lessons or check out the great big monitor lizards that amble around.
There's free music and events organised year round and Sri Thai Derm Food Centre where you can eat like a local with cheap and cheerful snacks and street food.
Cool off at the new Pororo AquaPark (Day Trip Idea)
Pororo AquaPark Open Hours: 10:30am to 7pm Monday – Friday. Sunday and Public Holidays 10am – 7pm.
Google Map Address: Central Plaza Bangna (6th floor) 585 Bangna-trad Rd. Bangna

Newly opened in March 2018 the Pororo Aqua Park located on the 6th floor of Central Plaza Bangna is the best way to escape the heat in Bangkok with kids. A short 20-30 minute drive from central Bangkok and kids can be splashing in fountains, zipping down slides, swimming in a variety of pools or floating down a lazy river(my kids fav!)
While it is a little more expensive than the Fantasia Lagoon Water Park rivals that are also located at the top of shopping malls, it's the best water park in Bangkok as uts fully renovated, clean, fresh and themed! The park takes after Pororo, the Little Penguin a rather famous South Korean cartoon character with his own TV series.
Thai's love a good cartoon theme and you'll find Pororo and his friends making regular appearances around the water park for photo opportunities. Everything down to the food, drink and snacks have Pororo on them and of course all the slides and pools are named after Pororo and his friends.
The hot and sticky Bangkok weather makes these types of shopping mall water parks an ideal escape for the kids. As it's part of Central Plaza Bangna shopping mall you can get pass outs to eat at the shopping mall food court or have a little wander before re-entering Pororo AquaPark for some more wet and watery fun.
Pororo Aquapark is not intended for thrill seekers, it's not a huge sprawling water park with loads of jaw dropping, stomach flipping, mega slides. A smaller water park offering four exciting slides and nine pools aimed at good old fashioned wet fun! Kids can choose to splash in the water playground, swim in a variety of pools with some suitable for infants and toddler, there are fountains and jets and a lazy river to float down. All slides and pools are supervised by trained staff.
Lockers, towels and inner tubes are available for hire for 40-60 baht per day. There's also a restaurant on-site and for the parents a pool bar!
Cost of Pororo AquaPark
Children below 90 cm are free
Children from 90-120 cm cost 280 baht
Adults cost 400 baht
Buy discounted Pororo Aquapark tickets online here
Adults pay only 290 Baht with Klook.
Children pay on 190 Baht with Klook.
Click here to buy discounted Pororo Aquapark tickets here.*
*Please note this is a affiliate link, meaning at no extra cost to you, we receive a small commission for a ticket sale using the above link. Thank you!
Getting to Pororo Aquapark
Another reason why Pororo Aquarpark is best is the convenient way to get to the water park by the Sky Train (BTS). Take the BTS to Udomsuk Station and catch the CentralPlaza Bangna Shuttle Bus (ask the staff for directions).
Taxi or tuk tuk will would cost 50-100 baht to ferry you from CentralPlaza Bangna.
Take in the sights, sounds and smells of Chinatown
Bangkok Chinatown Address: 300 Yaowarat Rd, Khwaeng Samphanthawong, Khet Samphanthawong
Chinatown is one of Bangkok's most fascinating districts, packed with restaurants, shops and cultural sights that make it a must to explore.
By day Thanon Yaowarat (Yaowarat Raod) the main thoroughfare offers air-conditioned restaurants and it's surrounding narrow soi's (laneways) chaotic at times, but can't be beat when it comes to authentic Chinese cuisine, ancient wood-shop houses and atmospheric temples.
Sampeng Lane for markets
Chinatown radiates countless lane ways, discover shops piled high with bags of dried squid, glistening jewelry stores selling the shiniest yellow gold and stores filled with solar powered lucky fortune cats. The supremely tight Sampeng Lane is the most popular, packed to the brim full with everything imaginable all at very decent prices.
There's a great choice of restaurants too, with everything from barbecued meats to noodle soups and Chinese-style Thai curries, showcasing the fusion of cuisine in this pocket of Bangkok.
Yaowarat Road for street food
By night, Yaowarat Road turns into a neon lit street food mecca where food carts line the busy street and burst down laneways, where crowds of locals and visitors eagerly queue for a plastic stools by a formica table to sample old-school Chinese cuisine.
TIP for Bangkok Chinatown
Do not miss Chinese New Year in February
Undoubtedly the best time to visit is during the Chinese New Year celebrations in February when the streets ignite with dragon parades, live music and dance.
Cuddle kitty's at Caturday Cat Cafe
Caturdary Cat Cafe Bangkok Open Hours: 12 noon to 9pm Tuesday – Sunday (closed Mondays).
Address Google Maps: 10400, 115 Phayathai Rd, Khwaeng Thanon Phetchaburi. Facebook: Cat Cafe Bangkok Facebook
Located in the east of Bangkok near the MBK Center and Siam Square One shopping centres is the Caturday Cat Cafe. It's home to around 40 gorgeous felines which are more than happy to be cuddled and stroked while you enjoy a coffee or afternoon tea. Pay a little extra for a cat snack and watch them pounce all over you for a little cat snack.
Our kids loved being surrounded by these affectionate creatures, and the cafe has a great collection of divine creatures from a silver Bengal, a couple of luscious ragdolls, two gorgeous main coones and a fluffy manx part of the family. They wander along the cat walk and sleep in the tree house as you enjoy a mango smoothie and chocolate lava cake afternoon tea.
Getting to Caturday Café Bangkok – directions
Super easy to get to, take the BTS to Ratchethewi station. Take Exit 2, Caturday is located down the stairs in a small alley, positioned directly opposite Asia hotel on the other side of the road.
TIP Caturday Cat Cafe
Take the BTS - easiest
A BTS ticket costs less than 50 baht per adult, kids under 120cm is half price and have their own childrens ticket.
Embrace your inner rainbow unicorn at Bangkok's Unicorn Café
Unicorn Cafe Bangkok Open Hours: Noon to 8pm daily except public holidays.
Address: 44/1 Khwaeng Silom, Khet Bang Rak. Facebook: Unicorn Brand Cafe.
If you prefer rainbow unicorns over kittens then Bangkok's Unicorn Café is not to be missed. Located on a corner of a non-descript side street, the Unicorn Café is fast becoming Bangkok's Instagram institution.
Painted with rainbow unicorns and fluffy covered clouds across its walls and floors, with my little ponies hanging from the ceilings – it's about the unicorn. The little café packs allot of rainbow punch with pastel leatherette chaise lounges, shelves upon shelves of unicorns in every colour and my little pony plushies hanging from the ceiling.
Visitors can also hire a unicorn onsie and cuddle up to a giant soft unicorn toy whilst enjoying a delicately layered rainbow crepe, fluffy rainbow cupcake or sickly sweet rainbow frozen drink.
Getting to Unicorn Cafe Bangkok – BTS
Unicorn Café, Bangkok is 5 minutes walk from Chong Nonsi BTS on the Silom line. Take the exit for Holiday Inn Express Bangkok Sathorn.
Walk down Soi Naradhiwas Rajangarindra 3, past Holiday Inn Express.
Turn right into Soi Silom 3, continuing walking towards Soi Sathon 8, Unicorn Café is on the corner of these two laneways.
Getting to Unicorn Cafe Bangkok – Taxi fare
Taxi's cost between 100-200 baht depending on location and traffic to get to Unicorn Café. This estimate fare is from central Terminal 21.
Check out Chatuchak Weekend Markets
Chatuchak Market Open Times: 9am – 6pm Saturday and Sunday.
Chatuchak Markets Address: Kamphaeng Phet 2 Rd, Khwaeng Chatuchak, Khet Chatuchak. Website: Chatuchak Market
No trip to Bangkok is complete without hitting one of the world's biggest markets. Over 15,000 stalls across 35 acres make up this monstrous weekend market.
Find everything and anything here from traditional woven baskets, palm leaf earthenware, Chang beer singlets, second hand lonely planet guides, used jeans, miniature marzipan fruits, Thai antiques, puppies, kittens and squirrels and rows upon rows of fashion and accessories.
The market is organised into 27 sections, everything has its place and makes the markets a little less overwhelming. If you have time to spare, wander the alleyways and get lost in the row upon rows consumer goodies. To conquer Chatuchak know your bearings and what section is where.
Unfortunately the issued map is a confusing, I did find a great one created by TripCanvas much easier to understand and a handy guide to it all here.
Chatuchak Markets with kids
Markets even the biggest and best one in Thailand is not often the best place to go with kids. However, there are some ways to tackle Chatuchak Markets without fear of losing them and tantrum free. Here are some tips to take on Chatuchak Markets with kids:
Go Early

Hit the markets before the midday sun and go right on opening at 9am. That way you can enjoy wandering through the market stalls minus the crowds and heat. There's also less traffic and smaller chance of taxi drivers taking you for a ride.

Go Slow

It's unlikely that kids will want to explore all 15,000 shop fronts. Pick a few Sections to wander through, breaking it up with sweet treats and a visit to the Pet Section – 8,9 and 11.

Barter with a smile

These stall holders are supreme experts at bartering with foreigners. Hit them hard but do it with a smile and prepare to compromise. It's not worth walking away over $1 AUD.
Know your sections
Clothing (sections 2–6 and 10–26)
Making up the majority of the market and the most popular for visitors, the fashion and clothing sections fans out from either direction of the clock tower in the middle of the market. The best way to tackle the fashion section is head into the market from Gate 3 entry.
There are some trendy Thai boutique clothing labels around sections 2, 3 and 4. Closest entry point is by MRT Station Kahmphaeng Phet Station near Gate 1 or Gate 3 entry.
Handicrafts (sections 8–11)
Find every Thai souvenirs here! Bargain handmade soaps, thai style cushions, woven totes, embroided elephant keyrings and silk lanterns fill up shops upon shops. The closest entry point is Gate 2 near the Mo Chit BTS SkyTrain station.
This section shares stalls with the pet, pet accessories, ceramic and pottery sections.
Ceramics (sections 11, 13, 15, 17, 19, 25)
Near the Clock Tower and opposite the fashion stalls is the Ceramics and Pottery Section. Find beautiful glazed blue and white tableware, gilded tea sets and trendy palm leaf platters here.
Furniture and Home (sections 1,3,4,7,8)
Everything for you home is located here, from home décor that is complexly on point to the traditional, big or small item are shops upon shops selling something you want to take home. From silk table runners, aromatherapy candles, painted coconut shells to huge hand carved teak tables, bronzed statues and wicker furniture sets.
Plants (sections 3, 4)
If only we can take them home, there are some very pretty vines, potted plants and terrariums here. A quick glance might give you some inspiration back home.
Art (section 7)
Imitation Monet's, huge canvas paintings by local artists and vintage art line the galleries in Section 7 and some appear in Section 8, 9 and 11.
Pets and accessories (sections 8, 9, 11, 13)
This is Thailand and here's where you'll find cages of puppies and cats. There are also plastic bags of brightly coloured fish and other animals you don't expect to see including squirrels, frogs and song birds. For visitors, the pet accessories are super cheap and plentiful.
Books (sections 1, 27)
Find used books, Thai literature and customised stationary in Section 1 and 27 near Gate 1.
Antiques and collectables (sections 1, 26)
There's plenty of old collectables and antiques here, find pottery salvaged from the bottom of the Chao Praya River, vintage phones, record players and antique Chinese porcelain.
Miscellaneous and used clothing (sections 2, 3, 4, 5, 6, 22, 25, 26)
Used denim and clothing share the western corner of the market by Gate 1 but also scatterd throughout the market. Pick up a pair of vintage 501's for less than $5 AUD!
Food and beverage (sections 2, 3, 4, 23, 24, 26, 27)
Food is located throughout the markets, between each sections snack stores sneak a little spot to serve up coffee, carts wheel around ice-pops and refreshing drinks. There's also a fully fledged food market near Gate 27 dishing out street food and a limited amount of tables and chairs.
Must eat Chatuchak snacks include coconut ice cream near Section 1. Fried chicken between Section 3 and 4 and chicken noodle soup at Section 21.
TIP Chatuchak Weekend Market
Shipping agents to ship large items homes
There are a few shipping service agents based at Chatuchak Markets. Though there are mixed reviews on the trustworthiness and costs with the service. By Exit 2 is CargoExpress and DHL shipping agents.
Getting to Chatuchak Markets
By bus, train or tuk tuk, getting to Chatuchak Markets is cheap, easy and convenient.
Chatuchak Market By Train
Both the MRT and the BTS (SkyTrain) takes you directly to Chatuchak Markets.
SkyTrain (BTS) to Chatuchak Markets
Chatuchak Markets is located at Mo Chit, end of the Sikhumvit Line. Take Exit 1 and follow the signs to Chatuchak Markets nearby.
From ASOK BTS a single fare costs 44 baht per person to ride the BTS one way to Chatuchak Markets. See fares here. Children under 90cm ride free, all others pay the normal fare. For a family of four it costs 176 baht to ride the BTS from ASOK Station to Mo Chit Station Lom – one way. Depending on where you embark it may cost a few baht more or less, but no more than 59 baht.
TIP Getting to Chatuchak Markets
One Day Pass
If intending to use the BTS for multiple trip throughout the day, there are One Day Pass's available for unlimited rides for a 24 hour period for 140 baht per person.
MRT (Metro) to Chatuchak Markets
Chatuchak Markets is located at the Chatuchak Park station (stop 16) on the MRT Blue Line. This stop takes you closer to Gate 2 of Chatuchak Markets for the Fashion, Art and Pets section.
The next stop along the line is Kampheng Phet which also serves Chatuchak Park (stop 17). Take Exit 1 to Chatuchak Markets and follow the signs. This will lead you closer to Gate 1 and the food, clothes, books and antiques section.
It costs 40 Baht for an adult and 20 baht for children to ride the MRT to Chatuchak Markets from Silom.
Chatuchak Market By Taxi Cost
The most comfortable way to get to Chatuchak Markets is by taxi and should cost 150-300 baht by meter depending on traffic and can take up to 45 minutes if the traffic is bad, even though it's 11 kilometres from downtown.
TIP – Getting to Chatuchak Market by Taxi
Insist on the meter
Insist on the meter or negotiate a price between 150-300 baht and take the tolls on Sirat Expressway for the fastest route.
Pratunam Markets
Pratunam Market Open Hours: 8am – 6pm daily.
Address Google Maps: 869/15 Ratchaprarop Rd, Khwaeng Thanon Phaya Thai, Khet Ratchathewi
If you can't make it to Chatuchak Markets on a weekend or do not have the inclination to tackle a sprawling market of that size then Pratunam Markets is the next best thing. Be mindful that it focuses purely on clothing including kids fashion.
The largest wholesale fashion market in Thailand offers five air-conditioned floors of clothing, fabric and fashion accessories. Although it is a wholesale market, the stall owners aren't fussy and the public are welcome to pay for individual items – at dirt cheap prices. At this market, bartering is the name of the game. Get you game face on and score the best discounts.
Pratunam Market extends out onto the streets and alley ways from Indra Regent Hotel to Baiyoke Tower, the tallest building in Thailand. Spend the day exploring Pratunam Markets, Platinum Mall and Plantip Plaza nearby. There are plenty of street food stalls and restaurants along the way to fuel up.
While the multi-level wholesale market mainly operates during the day, by night the Pratunuam Night Market comes into play. From 7pm – 11pm, lamps switch on under makeshift awnings with an endless of array of things to buy from clothing, wigs, lights, wallets, toys and switch blades it's all here to barter hard for.
Pratunam Market TIP
Buy in bulk for discount
Tradtionally a wholesale market, find a good deal if you buy 3 or more of the same item in one go. Barter hard and be prepared to walk away if the price feels too high. The ladies might beckon you back with a smile and a drop in price.
Getting to Pratunam Markets
A tuk tuk or taxi ride to Pratunam Markets costs approximately 150 baht from most central areas in Bangkok.
Getting to Pratunam Markets by Bangkok SkyTrain is quite straightforward. Take the BTS to Chit Lom on the Sukhumvit Line. From Chit Lom it's a 900 metre or 15-20 minute walk with kids. Cost of one-way fare is 26 baht per person, kids under 90cm ride free.
Pratunam Markets by river boat
Pratun Nam means Water Gate and there's a reason for it, you can also get to the Pratunam Markets by The Khlong Saen Saep Express Boat service which operates on the Khlong Saen Saep in Bangkok. Boat tickets to Pratunam Markets are 10 – 20 Baht! depending on where you embark from.
Klong Saen Saep Express Boat Route
TIP Pratunam Markets
Go mid-morning
Althought the wholesale markets are open at 8am each day, as the markets are fixed stalls of independent owners most will have their roller door down until 10-11am. Go early afternoons for the liveliest activity or earlier to avoid the crowds.
Neon Night Markets – Talad Neon
Neon Night Market Open Times: 4pm to Midnight Wednesdays through Sundays. Closed Monday and Tuesdays.
Address Google Maps: 1087 New Petchaburi Rd, Khwaeng Makkasan, Khet Ratchathewi.
There's a new hipster night market in town within easy reach of central Bangkok. The Neon Markets is a light, bright and beautifully sized open-air market. The market is perfect to tackle with kids for a couple of hours in the evening.
Also located in the Pratunam area, this perfectly size market offers boutique fashion labels, toys, handicrafts, electronics and cool, quirky and uniquely Bangkok products that kids just love. Customise a handmade plush toy, get your name painted onto a cute key ring or buy an inexpensive cat tote bag.
The open-air market features a large food section where Thai street food is served from funky shipping containers. Seafood is a popular choice with fresh fish and shellfish to pick out and cook to your liking.
Floodlit non light filled open spaces gives kids the rare opportunity to dance around to live music. On weekends there are giant inflatable slides and carnival rides together with innovative beverages including jelly shot cocktails and frozen alcoholic slushies.
Talad Neon Night Markets is right next to the Pratunam Markets and Platinum Fashion Mall and within walking distance from Central World and Siam Paragon or a short 100 baht tuk tuk or taxi ride away.
Getting to Talad Neon Night Markets by Taxi – Fare
Taxi's tend to barter hard to get to Pratunam from central Bangkok. What is a 100 baht ride from Terminal 21 is inflated to 200 baht due to traffic to the Neon Markets during peak hour.
Getting to Talad Neon Night Markets by Skytrain BTS
Chit Lom is the nearest SkyTrain BTS Stop on the Sukhumvit Line. From Chit Lom it's a 750 metre or 15 minute walk with kids to Talad Neon. Cost of one-way fare is 26 baht per person, kids under 90cm ride free.
You can hail a tut tuk for 50 – 80 baht from Chit Lom. Drivers may negotiate higher fees during peak hour, with a minimum fee of 100 baht.
Asiatique The Riverfront
Asiatique The Riverfront Open Times: 4pm to midnight daily.
Address Google Maps: 2194 Charoen Krung Rd, Khwaeng Wat Phraya Krai, Khet Bang Kho Laem. Website: Asiatique The Riverfront
A convenient and central market to visit when in Bangkok with kids is Asiatique The Riverfront, an upscale night market with a touristy feel. There are plenty of clean modern eateries lining the waterfront, entertainers, retro carousel and a big ferris wheel – a sure hit with the kidlets.
It harks back to the days when Bangkok was a booming riverside trading post, with some of the early 20th century warehouses of the East Asiatic Company having been lovingly restored.
You can wander through the shops of the Factory District, grab a bite to eat in the Waterfront District or even take in a show at the Joe Louis Puppet Theater.
Getting to Asiatique The Riverfront
To reach Asiatique The Riverfront, catch the Skytrain (BTS) to Saphan Taksin Station on the Silom line and walk down to the river. Here you can get a free 15-minute ferry ride up the river, taking in the night skyline en route.
Escape to SEA LIFE Bangkok Ocean World
SEA LIFE Bangkok Open Hours: daily at 10.00 AM and closes at 9.00 PM. Last entry is at 8pm.
Address Google Maps: Siam Paragon Shopping Centre, 991 Rama 1 Rd, Pathumwan, Bangkok 10330. Website English: SEA LIFE Bangkok.
When the kids are completely over Bangkok's temples, can't stand another shopping mall and can't bear the look of another Pad Thai in the heat then SEA LIFE Bangkok Ocean World, conveniently located in the Siam Paragon Mall – is a easy, central, indoor entertainment option especially for kids.
Families maybe familiar with the SEAL LIFE franchise, this one in Bangkok boasts South East Asia's largest spreading across 10,000 square feet. Divided into 13 themed sections there are over 450 marine species to see.
At the Rocky Hide Out section, find the most intelligent invertebrates the Pacific Octopus hanging out with giant spider crabs. There's a glass Shark Walk where kids can spy sharks of all kind under feet. Check out the fresh water local fish and river otters in the Tropical Rainforest and touch and feel sea stars and hermit crabs in the Rockpool area.
There are tanks of psychedelic jellyfish, a giant Ocean Tunnel where kids watch shovel nose and eagle rays glide pass. There's also an 8 metre high tank filled with tropical fish of every colour and species. However it's always the penguins that draw the kiddy crowds. In the Penguin Ice Adventure get up close to Gentoo Penguins waddle around in the ice or dart around in the huge glass tank.
Pay a little extra and go behind the scenes to feed the fish, hop on a glass bottom boat ride, take a dive in the ocean floor or experience the 4D marine show.
How to get to SEA LIFE Bangkok Ocean World
Take SkyTrain (BTS) to Siam Station, the central station for both Silom and Sukhumvit Line. Take Exit 5 to Siam Paragon.
How long do you need at SEA LIFE Bangkok Ocean World?
Allow at least 2-3 hours to visit SEAL LIFE Bangkok Ocean World to get the most out of this attraction and your money's worth.
Buy SEA LIFE Bangkok tickets online to save
Tickets for SEA LIFE Bangkok Ocean World costs 890 Baht per adult and 710 Baht per child, including the 10% online discount if you book online. Unfortunately there is a and 24 hour confirmation. However, you can save a bit more cash and get instant confirmation with with Klook.
Discount SEA LIFE Bangkok Ocean World tickets costs 600 baht ($25 AUD) per ticket with Klook, considerably cheaper than the advertised discounts booking online at SEA LIFE Bangkok Ocean World direct.
Kids under 3 years old enter for free!
Click here for discounted SEA LIFE Bangkok tickets – with instant confirmation.
Bangkok Must Eats with Kids
Food is more than sustenance to Thais and in Bangkok the act of eating is the very thing that binds people together. It's a universal language that allows all, rich, poor, local or foreigner to, pause and delight in.
Eating out with family in Bangkok is an experience in itself and there are a variety of ways to stuff your face, from humble street food stalls to classy establishments sample the distinct fusion of spicy, salty, sweet and sour flavours.
Note that Thai's adore their spice, the good news is that there are a number of kid-friendly Thai specialties which you should be able to find in most food courts and night markets so they don't have to live off steamed rice alone. Here's our pick of kid friendly things to eat in Bangkok:
Fried Chicken – Gai Tod
You can't go wrong with chicken for kids and crispy deep fried is a dead set winner. Gai Tod can be deep fried bite size boneless chicken morsels, crispy style fried chicekn wings or an entire fired chicken. The most common are the snack size portions found at night markets, most food halls and there's always a street vendor selling Gai Tod.
For the best fried chicken in Bangkok head to Soi Polo Fried Chicken recommended in the Michelin Guide, with it's own laneway named after it (Soi Polo) with over 50 years experience serving delicious fried chicken.
Polo Fried Chicken (Soi Polo)
137/1-2 Soi Polo, Pathum Wan, Krung Thep
Fish Cakes – Tod Mun Pla
If your kids like fish fingers, then they'll probably be happy with Tod Mun Pla or Thai shrimp cakes, in our opinion much tastier than the bland frozen home variety. Give this fresh deep-fried aromatic seafood treat a go when in Bangkok with kids. They're not too spicy and are usually served with a sweet plum dipping sauce. Shrimp cakes are plentiful, find them deep frying in huge woks of oil at markets, cooling off on racks on street stalls or order them from any seafood restaurant.
A beloved snack loved by Thais and found everywhere, seek them out at Chatuchak Markets, or find the best Fish Cakes in Bangkok can be found at Laem Cha-Reon Seafood at Siam Paragon or Central World.
Mango with Sticky Rice – Khao Niao Mamuang
Mango with sticky rice is one of those sweet treats that you'll crave once you leave Thailand, featuring slices of mango over glutinous rice and coconut cream. It makes for a great breakfast dish, mid-meal snack or dessert and is sold cheaply everywhere around Bangkok.
Mango Sticky Rice is a staple that can be found at supermarkets, on the ground level of most shopping malls, sold from carts street side at markets and all restaurants have a version of Thai's famous Mango Sticky Rice. The best mango sticky rice can be found at Mae Varee Sweet Sticky Rice with Mango, a dedicated Mango sticky rice store .
Boat Noodles- Kway Tiao Rua
Boat noodles were originally served from boats along the canals but can be enjoyed everywhere in Bangkok. The steamy bowls of noodle soup is served with meat of your choice usually pork or beef and topped with a rich bone broth. Depending on where you enjoy the boat noodles, the noodles can be glass noodles or rice noodles.
The best boat noodles in Bangkok can be found at 'Boat Noodle Alley' near Victory Monument.
Pad Thai
An introduction to Thai food calls for the simple yet flavorsome dish of Pad Thai, another one of those dishes you can find everywhere, cooked in steaming hot woks by street side vendors. The great thing about Pad Thai is that you can have it created just to your liking – minus the chilli, peanuts or whatever doesn't tickle your child's fancy.
The best Pad Thai in Bangkok can be found at Thipsamai Pad Thai.
Fried Rice – Khao Pad
Another safe option is Khao Pad, or fried rice, which at its most basic includes rice, onion, eggs and garnishes. Vegetables, prawns or chicken can also be added, as well as chilli, lime and basil for an added kick.
Fried rice can be found everywhere but the best Fried Rice in Bangkok is served with fresh crab at Mueang Thong Crab-meat Fried Rice 1 an institution where the kids can always pick out the crab.
Spring Rolls – Poh Pia Tod
Spring rolls are both flavourful and familiar, deep fried for that delicious crispy taste. They are normally packed with vegetables, shrimp or chicken and are a good option for fussy eaters.
The best spring rolls can be found anywhere that there is a deep fryer, for the best street food in Bangkok including crispy spring rolls head to our favourite Petchaburi Soi 5,
Papaya Salad – Som Tum (non-spicy)
If you're craving a fresh salad with a Thai twist, then try this green papaya salad which hails from the northeast of the country. It features shredded raw papaya with garlic, green beans, tomatoes, soy suace, fish sauce and palm sugar as well as shrimp and peanuts in some establishments. As it's made fresh, you can request to hold the chilli. To ask for no spice say 'mai phet' (not spicy).
Som Tum has a really distinctive sweet and sour flavour with a crunchy texture that kids may enjoy. The best Som Tum in Bangkok can be found at Som Tum Der famous for its papaya salad at 5/5 Sala Daeng Road, Bang Rak, Krung Thep.
Thai yellow curry – Gaeng Kari
Served either vegetarian or with meat, curry is a ubiquitous Thai favourite, featuring coconut milk and mild yellow curry paste. A delicious and aromatic dish that is not overly spicy. Kids can then move onto the red or green curries should they wish to spice things up.
The best yellow curry in Bangkok can be found at Khao Gaeng Jake Pue in Bangkok's Chinatown on Yaowarat Road.
Chicken with cashews – Kai Med Ma Muang
One of Thailand's most popular chicken dishes is Kai Med Ma Muang which features roasted cashews, together with vegetables and chilli. It doesn't have the intensity of sweet and sour flavours that some find confronting in Thai food, so it's a good option for those not feeling so adventurous – you can also ask to hold the chilli with this dish by requesting 'mai phet'.
For the best chicken with cashes head to one of the best Thai family casual restaurants in Bangkok – Baan Ying Cafe & Meal. Consistently touted with having excellent Thai food despite it being a franchise.
Best places to stay in Bangkok with kids
From luxury to budget, here's our pick of the best places to stay in Bangkok with kids.
Some of the below links are affiliate links, which means by clicking on and making a booking we receive a small commission that is at no cost to you.
Thank you for supporting Together we roam.
Luxury Five Star Family Accommodation Bangkok with kids
Here are the best of the best five star Bangkok hotels and resorts for families, taking into consideration total costs for a family of, location to transport or near Bangkok's best landmarks and family friendly amenities.
Grande Centre Point Terminal 21 – location & affordable luxury
Address: 2 Soi Sukhumvit 19, Khwaeng Khlong Toei Nuea, Thawi Watthana, Krung Thep Maha Nakhon 10110, Thailand.
Website: Grande Centre Pointe Terminal 21.
The Thai owned Grand Centre Point hotel group may not be as well known to visitors as the Westin and Sheraton Grande counterparts nearby, but in terms of luxury accommodation, exceptional service and location, Grand Centre Point Terminal 21 hotel is far superior.
Located above Terminal 21 Shopping Mall this is the best accommodation for families visiting Bangkok with modern and its considerably spacious rooms and direct connection to the ASOK SkyTrain has Bangkok at your fingertips – all at an extremely affordable price.
Chic contemporary Deluxe Room's can accommodate families of up to 4 members, kids can share a bed or request an additional rollaway. Or spread out and choose a connecting Deluxe Room available on request.
All rooms offer lovely luxury touches including free snacks and water replenished daily, complimentary high speed WIFI, kitchenette with microwave, 40 inch LED screen and electronic toilet with seat warmer and auto flush. Perhaps the most valued luxury inclusion is a washer and dryer combo, available on request so families can have a clean load of washing before heading home or onto the next destination.
For more bang for your buck, choose a Grande Suite, located on the higher floor. Not only are the Suites substantially roomy, the living room with sofa bed and separate master bedroom offer exceptional Bangkok city views. All suites have a kitchenette with full fridge, microwave, kettle and washer / dryer available on request.
Bangkok's green spaces are few and far between, not at Grande Centre Point Terminal 21, be spoilt with a rambling open rooftop garden where a jogging track runs through lush tropical common with private gazebos, a trickling pond and two full sized tennis courts. Also on this level is an oversized lavish gym equipped with the latest gear, a kids indoor play center, day spa and a rooftop infinity pool with uninterrupted city views.
Book Grande Centre Point Terminal 21
Grand suite Double Room sleeps a family of 4 from $344 AUD. One Bedroom Suite sleeps 4 from $594 AUD rooms (as of May 2018).
Click here for reviews and the best rates of Grande Centre Pointe Terminal 21
Shangri-La Bangkok – family luxury on the river
Address: 89 Soi Wat Suan Plu, New Road, Bangrak, Bangkok, 10500, Thailand. Website: Shangri-La Bangkok.
Bangkok can at times feel like a concrete jungle where buildings huddle claustrophobically together, this is not the case when by the riverside. The Shangri-La is an elegant dame along the Chao Phraya River and a perfect choice when in Bangkok with kids. There's something magical on the waterline here, a open deck spills over to the river where in relaxed sophisticated surroundings, families can watch life amble by, with ferries, long tails and fishing boats sharing the waterway.
As well as uninterrupted water views, Shangri-La's riverfront location makes touring Bangkok a breeze, with ferries to the city's most iconic landmarks at its doorstep. After a hot and sweaty day out, cool off at Shangri-La Bangkok's beautiful riverfront pool.
What still lingers is the perfume scent of hundreds of fresh orchids in the hotel lobby that goes hand in hand genuine warm Thai smiles from the friendliest reception staff we've ever had the fortune to meet. From the bellman to the concierge, staff at Shanri-La adore kids, even those that are a bit weary from a long late flight from Australia.
Our luxurious One-Bedroom Premier Suite on the premium floors of the 802 room complex, offered fantastic views of the Chao Phraya River below. There's a separate sitting room with sofa bed that can sleep two kids away from the master bedroom with king bed. We loved the dark teak wood and decadent silks that made us feel not just in connected to the Kingdom of Thailand.
Spread across two wings choose between two beautiful free forming lagoon pools by the river, a huge garden facing health club, wonderful tropical gardens, 6 hotel bars and restaurants including a Next2 Café that offers alfresco dining by the Chao Phraya River, not to mention one of Bangkok's best buffet breakfasts with a robotic ice-cream bar!
Book Shangri-La Bangkok
Deluxe Twin Room sleeps a family of four from $353 AUD. Executive Suite from $434 AUD sleeps a family of 4 (as of May 2018).
Click here for reviews and the best rates of Shangri-La Bangkok Hotel
Siam Kempinski Hotel Bangkok – the best of the best for family in the heart of Bangkok
Address: Rama 1 Road 991/9, Khwaeng Pathum Wan, Khet Pathum Wan, Krung Thep Maha Nakhon 10330, Thailand
The Siam Kempinski is one of Bangkok's most impressive five-star hotels, with hundreds of gigantic floral blooms, elegant antiques and artwork throughout the soaring reception and hallways and three pools scattered within its lush gardens.
Select one of their two-bedroom family suites, with your own kitchen to prepare meals and snacks, as well as a spacious lounge.
There's a fully-staffed Kids Club with an indoor playground and a whole host of activities to keep them busy, including interactive games, crafts and movies, as well as karaoke and a Junior Chef Programme where they can learn to cook.
While kids are content, parents can sneak out to the Michelin starred Sra Bua by Kiin Kiin restaurant for a modern Thai cuisine – there Tuna Tartar in lotus flower a signature dish.
The location is perfection, positioned right in the heart of Bangkok with direct access to Siam Paragon and serviced by Siam BTS the central station of Bangkok.
Book Siam Kepinski Hotel Bangkok
The most expensive of our list, but well worth the Premier rooms from $644 AUD (as of May 2018) .
Click here for the latest reviews and best rates for Siam Kepinski Hotel Bangkok.
Anantara Bangkok Riverside Resort & Spa
Address: 257/1-3 Charoennakorn Road, Thonburi, Bangkok, 10600, Thailand. Website: bangkok-riverside.anantara.com
Boasting a magnificent setting on the banks of the Chao Phraya River, the Anantara Bangkok Riverside Resort & Spa features traditional Thai architectural elements and colonial-inspired wooden features.
There's a palm-fringed pool and fully-staffed children's playroom for young ones to relax and it feels a world away from the bustle of Bangkok (despite being only a 15 minute boat ride away).
Luxurious modern Thai inspired Family Suites offer balconies that overlook the river and feature LED TV, complimentary WIFI, living area with sofa bed and complimentary smart phone to make navigating Bangkok a breeze.
Book Anantara Riverside Bangkok
Family Suites deluxe rooms for a family for four from $311 including breakfast (as of May 2018).
Click here for the latest reviews and best rates for Anantara Riverside Bangkok. 
Mid-Range Family Accommodation Bangkok with kids (3-4 stars)
Save some cash yet still find great value for money with a 3 and 4 star Bangkok family friendly accommodation. Here are the best mid-rang Bangkok hotel and resorts for families paying particular attention to location to family amenities including BTS, shopping malls or close to Bangkok city landmarks.
Novotel Bangkok Ploenchit Sukhumvit – location and comfort without compromise
Address: 566 Phloen Chit Rd, Khwaeng Lumphini, Khet Pathum Wan
Located right next to Ploenchit BTS Skytrain station and 2 stops from central Siam Station where all the shopping mall and food action is, the Novotel Bangkok Ploenchit in the heart of bustling and popular Sukhumvit ticks all the right boxes.
Facilities at Novotel Bangkok Ploenchit Sukhumvit include a lovely infinity pool overlooking the Bangkok city skyline, there's a modern gym and sauna, a fabulous 170-seat main dining room with an excellent buffet selection as expected of a Novotel with signature healthy eating options, room service and in-room babysitting services can be arranged for a night out in Sukhumvit.
Awesome deals with Novotel + Family and Le Club Accor
Combined with Le Club Accor and Novotel + Family privileges which include kids stay and eat free, 50% off advertised rate for an additional adjoining room, free WIFI for multiple devices and kids welcome gift. You can't go wrong with a Novotel and you won't be breaking budget with average rooms from $130 – 150 per night.
What's great about the Novotel brand is that a family of four can fit into a Superior room to save some pennies. Lots of hotel chains have a maximum occupancy of 3.
Book Novotel Bangkok Ploenchit Sukhumvit
Superior rooms from $148 (as of May 2018).
Click here for the latest reviews and best rates for Novotel Bangkok Plenchi Sukhumvit.
Chatrium Residence Sathon – spacious family apartments
Address: 291 Naradhiwas Rajanakarindra 24 Alley, Khwaeng Chong Nonsi, Khet Yan Nawa, Krung Thep Maha Nakhon 10120, Thailand
The Chatrium Residence Sathorn is a sprawling resort complex which offers apartment stays. Families can spread out and feel right at home with the benefit of self-catering with full kitchen including microwave, stove top and fridge.
Two and three bedroom sprawling modern suites feature balconies, separate living area, clean and comfortable bedrooms, LED TVs, free and fast WIFI and best of all washer and dryer. With rooms for families starting from $150 AUD you get allot of bang for your buck.
Chatrium Residence Sathorn offers an extremely impressive lagoon-style swimming pool nestled within a tropical garden and a dedicated Kid's Zone with both an outdoor and indoor play area. There's a shuttle bus which will whisk you to the nearest BTS Skytrain station which is located a few kilometres away.
Other luxuries includes three restaurants offering family friendly meals, room service, a spa, gym and pool bar.
The Sathorn neighborhood is surrounded by the trendiest hotels with rooftop bars and an enclave for expats. Whilst it's not in the heart of the shopping district there are plenty of restaurants and convenience stores nearby. You get a better sense of the local Thai's here and food prices reflect that.
The saving on the accommodation means families can easily afford an inexpensive Taxi or tuk tuk Bangkok's popular landmarks.
Book Chatrium Residence Sathorn
One Bedroom Suite from $152 AUD (as of May 2018).
The Sukosol Bangkok – family friendly on a budget
Address: Thanon Si Ayutthaya, Khwaeng Wachira Phayaban, Dusit, Krung Thep Maha Nakhon 10300, Thailand Website: The Sukosol Bangkok
The Sukosol Bangkok knows how to make kids feel special, with activity books, mini slippers and robes, as well as an elephant memento gifted to them at check in. They also offer complimentary swimming lessons in their lovely courtyard pool on Saturday mornings and Thai cooking classes which kids are more than welcome to participate in. Styled in French Colonial and traditional Thai, the hotel steers away from the modern with an an elegant timeless feel to it.
What makes Sukosol Bangkok hotel a sure winner with families is the convenient access to transport, positioned right by the BTS Skytrain Phraya Thai Station and the Airport Link Station which connects to Suvarnabhumi International Airport. Once your'e near a SkyTrain you can access any part of Bangkok with ease including the nearby shopping malls and landmarks by the riverside and nearby Victory Monument.
Premier family rooms are available for families and sleep up to 2 Adults and 2 Kids. The spacious room features two large double beds with lounge area, huge bathroom and complimentary WIFI. The kid amenities including kids rombes and slippers, children's DVD, music selection and books to borrow.
Book The Sukosol Bangkok
Premier King Rooms sleeps 3 from $119 AUD including breakfast (as of May 2018).
Click here for the latest reviews and best rates for The Sukosol Bangkok.
Budget Family Accommodation Bangkok with kids
Families on a budget need not compromise on facilities when it comes to visiting Bangkok with kids with a wide variety of 3 star and below hotels and resorts to choose frome. Here are the best budget Bangkok hotel and resorts for families:
Viva Garden Serviced Residence – apartments next to Sky Train
Address: 1988 Sukhumvit Rd, Khwaeng Bang Chak, Khet Phra Khanong, Krung Thep Maha Nakhon 10260, Thailand Website: Chatrium Residence Sathon's
Although it's a little outside of the city centre, the Viva Garden Serviced Residence is a great budget option if you still want a few upmarket perks including a family friendly pool. The location is perfection, adjacent to Bang Chak BTS zips families into the centre, Siam Paragon is a short 13 minute train ride away.
Located just across the river from the Bang Nam Phueng Floating Market which is one of Bangkok's undiscovered gems.
Two bedroom suites feature kitchenettes where you can prepare meals and separate living areas. Family accommodation is spacious, modern, clean and comfortable – everything you need without breaking the bank.
The hotel offers a great outdoor kid friendly pool and hot tub to relax in at the end of the day. For the toddlers there is a small complimentary kids space with a soft play jungle gym and ball pit and a lovely private grassed courtyard to have a run on.
Book Viva Garden Serviced Residence
Executive 1 Bedroom apartment residences sleeps 3 from $124 AUD including breakfast (as of May 2018). Check out the best rates, read reviews and book here.
Thailand with kids
Wonderful memories and exciting adventures await families visiting Thailand with kids. Bangkok is the gateway to a variety of regions offering unique experiences all super family friendly.
From Bangkok you can fly or drive just about anywhere, snorkel the crystal blue Andaman Sea of the Similan Islands, sink your toes at Leonardo DiCaprio's Beach in Maya Bay Phi Phi Island near feed rescued elephants in Phuket, cruise a long tail to a palm fringed island in Krabi, feed rescued elephants in Phuket or temple hop in Chiang Mai. Carve your own family adventure in a country that is famous for it's warm Thai smiles, magnetic scenery, super hotel and resort options for kids and great value for money.
Bangkok acts as a great destination to start or end a family holiday; either fly in and rest and recuperate first before jetting off to one of the many Thailand holiday hot spots or explore the bustling city for a 2-3 days day before flying home.
Getting to and from Bangkok with kids
There are direct flights from Australia's east coast cities to Bangkok with Jetstar, starting at around $500AUD return, or similarly priced tickets with AirAsia and Tiger Airways connecting through Kuala Lumpur and Singapore respectively. If you're traveling from Perth, return flights start from $350AUD with connections in Singapore or KL. Prices as of May 2018.
Children under 12 years are eligible for 20% discount on most fares, while infants under 2 will usually pay around 10% of the children's fare (if they are sitting on an adult's lap).
Getting to and from Bangkok Airports
There are two international airports in Bangkok, Survarnabhumi International Airport (BKK) is the original airport that serves most full service airlines including Thai International Airways. The other is the recently refurbished Don Mueng Airport and services AirAsia, Malindo and Scoot international flights from Australia.
Getting to and from Suvarnabhumi International Airport (BKK)
Located around 30 kilometres east of the city centre and connected by the Bangkok Airport Link train. It takes 30 minutes for the journey, with tickets costing 150 Baht and kids under 90 cm (5 and below on average) ride free.
Flying with kids, for some tip and tricks check out our Flying with a Car Seat guide.
TIP Getting to and from Bangkok Airport
Know which airport you are flying out of!
Check your ticket for departure times, flight number and airport code before heading to the airport. There is 47.5 kilometers separation between each airport!
Getting to and from Don Mueng Airport Bangkok (DMK)
Don Mueng Airport (DMK) handles domestic flights for budget airlines including: Thai AirAsia, R Airlines
, Orient Thai and Thai Lion Air, THAI Smile and Nok Air departing from Terminal 1.
International flights that fly out of DMK including Air Asia and Nok Air depart from Terminal 2.
TIP Bangkok Airport
Free shuttle bust between airports
A free shuttle bus operates between both airports. At BKK access the shuttle from level 2 between gates 2 and 3. At DMK access the shuttle bust at arrivals at Gate 5 in arrivals terminal 1. Allow an hour to get between airports.
Getting to and from Survanarbhumi International Airport (BKK) by Taxi
Most visitors arriving into Bangkok will fly into BKK. There are plenty of taxis waiting outside the terminal building with metered trips. Drivers will try to haggle a price of around 400 baht to get to central Bangkok, but always insist on the meter.
Tolls of 120 baht will be added onto the fare or the driver can request the money to pay at the time. Always insist on the expressway and pay the tolls or risk being run around town. Also keep in mind that Bangkok's traffic can be crazy and you may end up at a standstill if you're traveling during peak hours. Meter taxi rides even in the roughest of traffic should not exceed 400 baht.
TIP Bangkok Taxi
Large size taxi for families of 4 or more
For a family of four at the taxi rank outside the airport terminal always choose a large size taxi as a family of four with two large suitcase and carry on will not fit a standard size sedan. For the large vehicles expect to pay a little extra, approximately 500 baht including tolls.
Getting around Bangkok with kids
The SkyTrain (BTS) or underground metro (MRT) to Bangkok
The Skytrain (BTS) and underground (MRT) rail systems are the most convenient ways of getting around the city, with efficient services and relatively comfortable travel. Note that the BTS and MRT are separate rail systems and have separate fares.
BTS Fares start at around 15 Baht for a single stop, but if you plan on traveling frequently, then a one-day pass for 120 Baht is a good option. Kids under 0 cm in height can travel for free. Although there are some stroller-friendly elevators at select stations most have a large flight of stairs and prams are not the most convenient to get around Bangkok in.
Getting around Bangkok with kids
Taxi's Bangkok
Taxis are cheap and available on almost every city corner and we found the easiest way to get around as a family. Be mindful that not all taxi drivers play nice. Always insist on the meter and have google maps loaded to make sure they are not taking you the long way around.
TIP Taxi's from Bangkok airport
Insist on the meter from the airport
Insist on the meter when taking a taxi from the airport it is illegal not to do so. Insist on taking the expressway and pay the tolls around 70 baht either have small change and pay at the toll booth or have it added to your final fare. There's also a 50 baht airport taxi payable to the driver.
metered taxi fare should cost no more than 400-500 baht depending on where in Bangkok downtown you are. Allow up to an hour in traffic to arrive downtown.
Taxi's to the airport is a different experience altogether, you can insist on a meter but taxi drivers may refuse your service especially early in the morning. A reasonable cost is around 400 baht depending on size of taxi. Larger size taxis cost 100-200 baht more. Early mornings take no more than 30 minutes to travel to the airport.
Tuk Tuks Bangkok
While tuk tuks are a fun way to travel on short trips, they're slowly disappearing from Bangkok's central streets and becoming a novelty item for tourists. On the outskirts of Bankok, locals still take tuk tuks around to get from A to B. Tuk tuks are similarly priced as taxi's and some of them can drive recklessly.
They are fun for short trips and can cut across traffic easier than a taxi. Don't be afraid to tell the driver he's going to fast.
TIP How to take a tuk tuk with kids
Never negotiate with a parked tuk tuk outside tourist spots
Never negotiate with a tuk tuk parked outside a shopping mall or tourist area, they drive a hard bargain and expect extortionatefares. Instead flag one down driving along the road.
Best time to visit Bangkok with Kids
Bangkok's climate can roughly be divided into three seasons:
The Cool Dry Season – from November to February (peak)
The Hot Season – from March to mid-May (shoulder)
The Rainy Season – from mid-May to October (off peak)
Expect fairly high humidity throughout the year, with temperatures ranging from around 30°C in December up to 36°C from January through to April.
For the ultimate packing with kids guide read it here.
Visit Bangkok with kids in the Cool Dry Season (November to February) is best
The cool dry season is definitely the most popular time to visit Bangkok, with lower humidity levels and heat making it ideal for exploring the streets of the capital. But you'll have to compete with far more other tourists (particularly over the Christmas/New Year holiday period) and inflated hotel rates.
Without a doubt, the best time to visit Bangkok is November to February, which is also the peak season. Bear in mind that the weather is sometimes unpredictable and you can get wet weather in the peak season – sometimes you just luck out!
Visiting Bangkok with kids in the Hot Season (March to May)
The second best time to visit Bangkok with kids is The Hot Season or shoulder season and it's still great.
Bangkok from March to May can get hot, both kids and adults will get drained fast trying to sightsee in the heat and humidity. However there's ways around it, visit sights outdoors early in the morning. Swim and cool off indoors in the middle of the day when the sun and humidity is at its hottest and explore the night markets in the evenings. Shops are open to 10pm for a reason!
If planning to go in the shoulder seasons, visit closer to March than to May when the rain starts.
The rains bring a welcome respite and tends to come as short, intense showers, rather than intensive all-day downpours. If you're happy to duck for cover now and then, you'll benefit from reduced hotel rates and crowds at the major tourist sights.
Visiting Bangkok with kids in the Rainy Season (May to October)
The Rainy Season or the Monsoon Season is the least popular time to visit Bangkok. Most visitors with kids will avoid Thailand in the wet, particularly June through to September with May and October featuring less torrential downpour. Still, it's business as usual despite the notable rainfall and families visiting Bangkok in the big wet will benefit from little crowds, hugely discounted hotel rates and a more relaxed pace.
Whilst it may not rain heavily every day, make no mistake that Bangkok is wet from May through to October, flooded roads means heavier traffic and closed outdoor attractions. When there is a reprieve, everything from temples, markets and malls keeps on keeping on.
Phuket with kids
After a stopover in Bangkok, make your way over to Thailand's most loved family holiday hotspot and explore the great beaches, take a day trip or explore the sublime Phi Phi Islands – for all the best tips and tricks read about out Complete Guide to Phuket with Kids here.
Bangkok is such a wonderfully diverse city and each time we go back there is always something more to see. Have you been to Bangkok with kids? Any tips or suggestions to add to this Bangkok city guide? Please leave a reply below